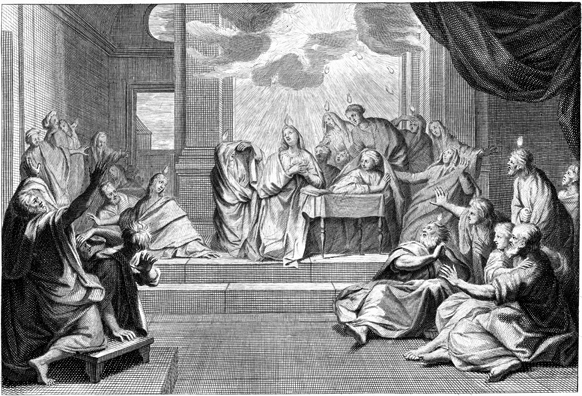 Pentecost Sunday sweeps into the Christian Year on the seventh Sunday after Easter, on the 50th day. It is the longest season on the liturgical calendar, lasting until Advent. Some traditions celebrate Pentecost as one day, and call the season following this day Ordinary Time; regardless, "Ordinary" Christianity since the sending of the Spirit on the day of Pentecost (Acts 2) is Spirit-filled Christianity.
With that in mind, listen to two hours of hymns and worship songs Kristen and I have selected for you. Before we share the Spotify list with you, hear our new "Spirit Of Freedom," a song about the Holy Spirit's work "all around the world, shaking everything," from broken homes and crime-filled streets to "halls of power" and "brothels filled with lust," to graveyards:

Get the free "Spirit Of Freedom" chord chart here. And watch the "Spirit Of Freedom lyric video from the Kristen Gilles YouTube channel.
You'll find songs in a wide range of styles, so I'm sure at least a few of these would be good fits for your local church worship services during Pentecost/Ordinary Time. The songs on this Spotify playlist celebrate the sending of the Spirit, and the certainty that our risen Savior is sitting at the right hand of the Father, leading his Church. These songs communicate movement, mission, service, empowerment, assurance, the growth of the Church and the expectation of our Lord's return.

* I also commend to you the Cardiphonia "Pentecost Songs" album, a free download of 25 hymns for Pentecost from many worship leaders and ministries. Get it at here, and learn more about it here. Most of these aren't on Spotify, so you'll get completely different songs for Pentecost by downloading this album. Now, for those of you not already on Spotify, here's our track list:
The My Song In The Night Pentecost Season Worship Songs Playlist
The Same Love by Paul Baloche
Spirit Speaks by All Sons & Daughters
Hear The Call Of The Kingdom by Keith & Kristyn Getty
Seen A Darkness by John Mark McMillan
Oh! Great Is Our God by The Sing Team
We Are Changed by Sojourn
Your Great Name by Todd Agnew
All Who Are Thirsty by Vineyard Music
Triune Praise by Shai Linne
Redeemed For Your Glory by Stephen Miller
Immovable Our Hope Remains by Sovereign Grace
God Of This City by Bluetree
God Is With Us Now by Gateway Worship
Awaken Us by Travis Ryan
There Is A Peace by Sojourn
Spirit of God by City Hymns
Lead On, O King Eternal by Indelible Grace
King Of Heaven by Paul Baloche
O Church Arise by Keith and Kristyn Getty
Here Am I, Send Me by Matt Papa
Sweet, Sweet Spirit by the Gaither Vocal Band
Set Me On Fire by Vineyard Worship
Let It Shine by All Sons & Daughters
How He Loves by John Mark McMillan
Come O Spirit by Bifrost Arts
Battle Song by Travis Ryan
Mission's Flame by Matt Redman
All I Have Is Yours by Sojourn
Jesus Savior, Pilot Me by Bifrost Arts
Send The Light by Smokey Mountain Singers
Hail Thy Once Despised Jesus by Zac Hicks and Cherry Creek Worship
Made Us Alive by The Village Church
See, He Comes by Sovereign Grace
Coming Kingdom by Saint Lewis
Let The Seventh Angel Sound by Sojourn
Our other Spotify worship song playlists: