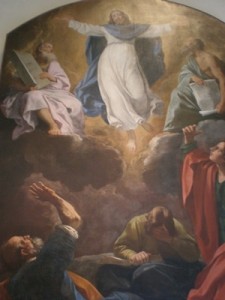 Looking for songs for Resurrection Sunday and the entire season of Easter? Then listen for free to many Easter-themed songs recommended on this page. Whether you're a worship pastor looking for song ideas for Easter worship service planning or a Christian who wants 2 hours of songs for personal devotions during the liturgical season of Easter, Kristen and I think you'll find the songs on our Easter playlist helpful.
We've chosen hymns and worship songs from a wide variety of worship soloists, bands and ministries, as well as from many genres and styles of music. We encourage you to to consider purchasing and/or using the songs you enjoy in your worship settings.
First, here our brand new "No More Fear" from Parker's Mercy Brigade. Rather than retelling the events of Easter morning as many songs do, this song will help you and your congregation remember that the cross and resurrection are reasons to celebrate, and to live with "no more fear" in our heart as we live on mission.

Free "No More Fear" chord sheet here. And watch the lyric video for "No More Fear" from the Kristen Gilles YouTube channel.
Also listen to "Awesome Is Your Power," about the power of Christ to raise us from spiritual death to give us eternal life. "Ground is breaking, dead are waking, forevermore!" Chord chart here. Lyric video here.

Easter is a season of joy and triumph, for celebrating the Savior who conquered death and proved His power to save and resurrect His people. These songs will help you celebrate, alone and with others.

Listen Here On Spotify: 39 Hymns & Worship Songs for Easter
1. See What A Morning — Keith & Kristyn Getty
2. Oh What A Day — Sovereign Grace
3. Risen Today — Aaron Shust
4. Glorious — Paul Baloche
5. Death In His Grave — John Mark McMillan
6. He's Alive — Dolly Parton
7. Warrior — Sojourn
8. God Undefeatable — Todd Agnew
9. I Will Rise — Chris Tomlin
10. Christ Is Risen — Jeremy Riddle
11. Jesus Is Alive — Shai Linne
12. He Has Risen — Sovereign Grace
13. Jesus Is Lord — Matt Papa
14. Grace Already Won — Carlos Whittaker
15. Celebrate (He Lives) — Fred Hammond
16. To Christ, The Lord — Indelible Grace
17. Beautiful Savior — Matt Redman, Paul Oakley, Tim Hughes
18. Christ Is Risen Indeed — Matt Boswell
19. Ain't No Grave Gonna Hold My Body Down — Tim and Molly O'Brien
20. Christ Is Risen — Joe Day
21. Like A Lion — Daniel Bashta
22. Christ Is Risen Today — Zac Hicks and Cherry Creek Worship
23. Rez Power — Israel Houghton & Joth Hunt
24. Jesus Lives — Sovereign Grace
25. Glorious Day — The Village
26. Alpha and Omega — Gaither Vocal Band
27. Good Day — Sojourn
28. Christ Is Risen — Matt Maher
29. Happy Day — Tim Hughes
30. Alive — All Sons and Daughters
31. Hail The Day — Sovereign Grace
32. Savior's Here — Kari Jobe
33. Forever You Reign — Stephen Miller
34. Death Could Not Hold You — Tree Hill Collective
35. Wherein Consisteth Christ's Exaltation? — Bruce Benedict
36. All My Tears — Julie Miller
37. The World Will Know — Sojourn
38. Easter Song — Keith Green
39. Rising Tide — Kristen Gilles
Our other Spotify worship song playlists: