We can't wait to release our new album Parker's Mercy Brigade nationally on April 1. In fact, you can see the artwork and preview a couple songs in the right sidebar. You can also learn more about Parker's Mercy Brigade and even preorder here.
Recently, we've told you about our group vocalists, our guest duet vocalist, our engineers and other details like the track list. Now, I want to give props to our incredible band. These godly men helped bring our vision to life — the vision that God entrusted to us.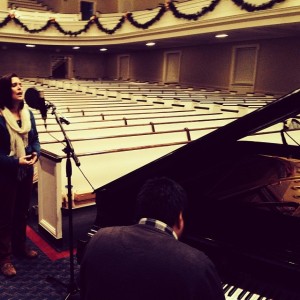 We've already written about our band leader and arranger, Jonatan Barahona (pictured above with Kristen, recording "Chase Away My Unbelief" at Alumni Chapel in Southern Baptist Theological Seminary). Jonny is an intern at Sojourn Music, an adjunct in the worship program at Southern Baptist Theological Seminary, and a part of the touring band for Integrity artist Christine D'Clario. Jonny has also toured with Sovereign Grace and Ingrid Rosario. For Parker's Mercy Brigade, Jonny played piano and organ. He also cowrote two of the songs with us — "Awesome Is Your Power" and "Praise The Sending God."
Last but not least, Jonny co-produced the record with me. And make no mistake about it — Jonny was the real "music man" in the production department. The production details I handled were largely project management – making sure the project moved through its various stages on time and on budget, and in line with the original vision — things like that. Jonny ensured that everything sounded correctly.
in alphabetical order: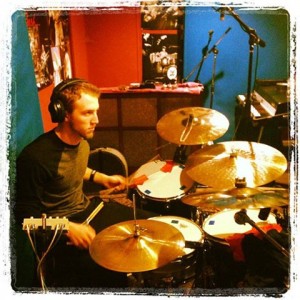 Jared Hoffman — Jared played drums and other percussion parts on Parker's Mercy Brigade. Jared is part of the worship ministry at Sovereign Grace Church here in Louisville, and has toured with Sovereign Grace Music. He also plays for the Norton Hall Band, the worship band for the Division of Biblical Worship at Southern Baptist Theological Seminary.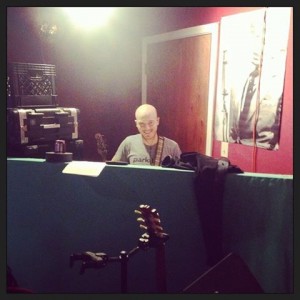 Martin Stam — Marty played bass guitar for us on this record, just as he does at Sojourn Community Church. He is most regularly a part of Sojourn's J-Town campus, but has moved around as needed throughout our campuses. Marty is the son of one of Sojourn's worship mentors, the late Chip Stam, whom I wrote about here.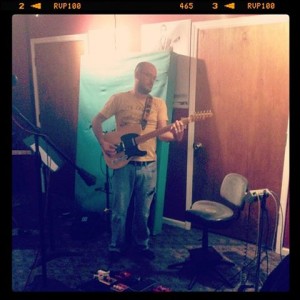 Evan Thompson — Evan played guitars on this record, just as he plays at Sojourn J-Town. He's been a regular at Sojourn Midtown in the past, as well. Evan handled nearly all guitar parts for this record, including all electric guitar. He played with the band live during our initial tracking, then added other guitar parts later.
Finally, our Worship & Arts Pastor Mike Cosper played acoustic guitar on "God Of All Comfort," Kristen's duet with Devon Kauflin. Mike is the founder of Sojourn Music and one of Sojourn Church's executive elders.
We're looking forward to the day when you can hear all the songs of faith, lament, hope, comfort, resurrection and praise for our great God. We feel that you'll be blessed by the songs, thanks in no small part to these brothers who used the skill God gave them, for his glory.