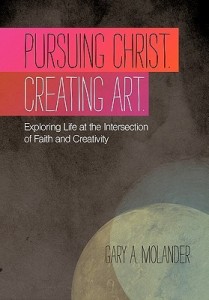 Last year Kristen and I met Gary Molander at the RefugeSSI retreat, where Gary was the featured speaker. Not only did we learn from Gary at the retreat, but we've enjoyed his book Pursuing Christ, Creating Art: Exploring Life at the Intersection of Faith and Creativity.
Among the many important lessons in his book, Gary advises asking three questions before creating any piece of internal or external church communication or publicity:
The Adjective Question:
Are we really using accurate adjectives to describe the object of our design?
I've written before about the need for coherence in church communications — what you say about your church should align with who you really are as a church. Don't call yourself "the friendly church" if your members are cliquish. Instead, expend that energy to preach the gospel of peace and reconciliation — that Christ has broken down barriers between God and humankind, as well as barriers between each other, through the cross.
The Future vs. Reality Question:
Are we advertising a future goal as if it was a current reality?
One of the examples Gary uses here is the oft-claimed church slogan, "Reaching the world for Christ." Is your church really reaching the world for Christ? Are you sending and supporting missionaries? Are you planting churches? If a new family begins attending your church because they have a heart for the nations and are excited about your slogan, will they be disappointed?
The Comparison Question:
Are we building up our own church by tearing down others?
Churches do this all the time with marketing materials that say things like, "Not your grandmother's Sunday service" or "Tired of outdated hymns and pipe organs? We have an amazing rock band that is contemporary and relevant."
Maybe your service is more attractive to youth. Maybe your band is amazing (if not, then you're also failing the adjective question). But even if these things are true, your inference is, "We're cooler than the church down the street."
Is this kind? Does this have anything to do with the gospel? And if your church does have a special goal of reaching generations that other churches in your area aren't reaching, are there ways to advertise this without sounding as arrogant as, "Not your grandmother's Sunday service?"