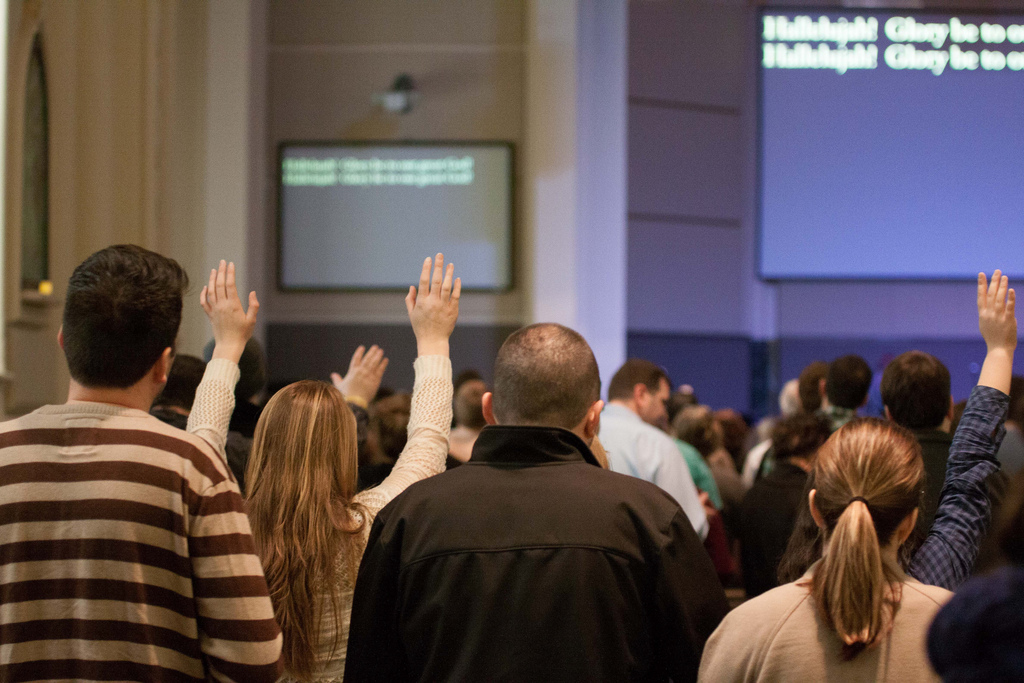 In II Chronicles 35:3-6 King Josiah prepares the people of Israel to celebrate the Passover. He commands the Levite families to
"spend your time serving the Lord your God and His people Israel. Report for duty according to the family divisions of your ancestors . . . then stand in the sanctuary at the place appointed for your family division and help the families assigned to you as they bring their offerings to the Temple. Slaughter the Passover lambs, purify yourselves, and prepare to help those who come."
As I read this passage, God challenged me to consider my role and duties as a worship leader. Although today we have no need to follow the Old Testament Temple worship and sacrificial system because of the once-for-all time sacrifice of Jesus, we must come prepared to help those who are gathering with us to worship.
How? Our fellow worshipers aren't bringing animals to be slaughtered and sacrificed like the ancient Israelites. They don't need us to prepare their offerings and present them on the altar of the Lord like our Levite ancestors did.  Still, they are coming to worship the Lord and we have been called by God to help facilitate (organize and lead) our gathered worship times.
We must prayerfully prepare for the work by asking for God's wisdom and direction. We must remind ourselves of the gospel and our position in Christ:
We are sinners saved by the grace of God through the faith He's given us.

We are righteous because Christ's perfection has been accounted to us.

Our praise is acceptable to God because of Christ's perfect, obedient sacrificial worship in our stead.
His is the only perfect, true, spiritual worship of our Father, and because we are now in Christ, with our sinful nakedness covered by His righteousness, we have confidence when we approach the Father based on the merits of Christ's blood. This reality must be at the forefront, the center, of our preparation and efforts.
Bold Before God's Throne by Kristen Gilles
There are also practical considerations.  Some worship leaders are responsible for selecting the songs, Scripture texts and prayers that comprise their weekly church gatherings.  Others are simply responsible for learning the music.  Some may only be responsible for leading liturgical prayers and Scripture readings.  And many worship leaders are responsible for all of these tasks.  Whatever your role or responsibility in the gathered worship time, try to perform your duties with excellence.
Evaluate your preparation habits.
Are you allowing adequate time to prayerfully and practically prepare for the work of service God has called you to do?  He is not expecting perfection from us, but rather He's calling us to submit to His Holy Spirit who is our Helper.  Consider also the attitude of your heart concerning your role in the gathered assembly: do you view yourself as a servant, a helper of the congregation?
Remember Jesus our great High Priest who serves us and helps us worship by interceding perfectly on our behalf before our Father in Heaven.  He made Himself nothing and took on the very form of a slave, humbling Himself to the point of death on a cross for us.  And we are called to follow His example as we humbly serve the family of God and our neighbors in whatever role God has given us.
After preparing well for service, then let us serve God's people in a helpful way.  Proclaim the marvelous works and salvation of our great God as you sing and play. This should be reflected in our faces and bodies as an example to the congregation as we demonstratively worship the Lord, appropriately engaging our whole beings (clapping our hands, raising our voices, lifting our hands, bowing our knees, playing our instruments skillfully).
Let's also lead the church in open-hearted confession and repentance in response to God's Word and the conviction of the Holy Spirit.  And let's help our family by reminding them of the only Hope we have for freedom from and forgiveness of sin.  Let's serve them well by declaring the good news of God's great love for the world and His glorious salvation of all who believe in Him. May this be our aim in our weekly gathered worship times and in our weekly scattered meetings in community: to serve the Lord and His people as worship leaders and helpers.
Previous  My Song In The Night articles on topics mentioned here:
How To Lead Worship with True Joy Instead of a Happy Face Mask
7 Crucial Tips for Background Vocals
Are Worship Leaders Called to Put On a Happy Face When Leading?
The Worship Leader In the Pew: What To Do When Not On Stage
5 Things To Pray For Your Congregation As You Prepare To Lead Worship
Worship Leader Fail: Even Leaders Need to Follow
5 Worship Leading Mistakes That Hurt Your Congregation
Leading Songs and Liturgy With Clarity, Diction and Conviction
Inside A Sojourn Music Worship Team Practice Session
How to Prepare for Leading Worship at Retreats and Conferences