If you haven't heard of The Scripture To Music Collective, then you need to … and today is your lucky day, because you'll learn all about it in my interview with Collective founder Caroline Cobb, a talented singer-songwriter from Texas who is passionate about equipping the Church to sing the story of scripture — God's grand narrative, from Genesis to Revelation. Join me in this My Song In The Night interview. You'll learn how you can help grow the Scripture To Music database (even if you aren't a songwriter) and how you can mine its contents to find good music for your church and personal devotions.
Bobby Gilles: What is the goal of the Scripture To Music Collective? Are these primarily Bible memory verse songs?
Caroline Cobb: TheScripturetoMusicCollective is a website devoted to creating a "soundtrack" for scripture.  We do this by curating and collecting songs that have already been written, and encouraging songwriters to write new songs from scripture. Slowly, we are building a collection of songs that – we think – creatively & faithfully tell God's Story.  Ultimately, our goal is to encourage and act as a resource to the Church.
For us, creating this "soundtrack" is not about collecting a bunch of Bible memory songs.  In fact, we generally try to steer clear of this type of song.  We want the songwriter to consider not just the words in a passage, but the emotion and the context and the setting.  We want the songwriter to be creative and to have access to the full arsenal of creative writing techniques – metaphor, alliteration, perspective, etc. – as they approach the text.
What was Abraham really feeling as he led his son Isaac up the mountain to be sacrificed?  Does this melody really capture the anguish and longing of this Psalm?  What metaphors and creative writing techniques could I use to tease out the meaning of this really familiar verse and make it fresh again?  These are the questions we want songwriters to ask as they write from scripture.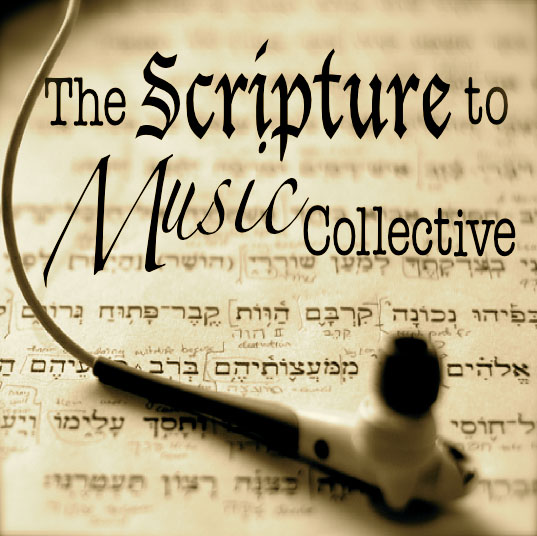 Bobby Gilles: You feature a mix of indie artists and artists on major labels. What criteria do you use to decide who to feature? How can artists get involved?
Caroline Cobb: When we are reviewing a song to see if we should feature it on our site, we ask two main questions.  The first one is most important: does this song faithfully exposit or "riff on" a certain passage or story in scripture?  After we answer this first question, we look at quality – recording quality, vocal quality, style, creativity, etc.  You can find more specific guidelines on our "PostyourSong" page, and we have a long list of types of songs that we don't generally accept.
On that page, we also have a link to a song submission form for artists and we would love to see more and more submissions come through.  We enjoy supporting and promoting indie artists, and our hope is to eventually become a sort of community for independent musicians who write creative songs from scripture.
Bobby Gilles: Is there a way for non-artists to add or recommend their own favorite scripture songs?
Caroline Cobb: Yes!  We need lots of help finding new, quality songs to post.  Anyone can suggest a song right here.
Bobby Gilles: Many of the songs by major-label artists are in the form of their official YouTube videos. Is this for legal purposes – a way for fans to recommend their music without depriving them of royalties or breaking copyright law?
Caroline Cobb: Yes.  We try to use songs that major label artists have posted through YouTube, Bandcamp, etc. or live recordings of performances rather than the actual song on the album. We always include the copyright information and links to buy the song as well, and we try to promote the songs and the artists as much as possible.
Bobby Gilles: How long do you spend working on the Collective each week?  How many people are involved in supplying content? How do you spread the word?
Caroline Cobb: Good question!  I use the collective "we" a lot when I'm describing The Scripture to Music Collective, but it's really just me running the site right now.  But I think that maybe somewhere deep down I have a much bigger vision for this site…  I envision a team of songwriters who are consistently writing songs from scripture, in the same way that the Indelible Grace artists are always "retuning" old hymns, for example.  I envision a team of administrators and people who are passionate about music who find and review and post new songs.  I envision a team of designers and writers that could come up with new content like our Easter playlist and interview up-and-coming artists. So, I guess that's where the "we" is coming from.
As far as time spent, it really depends.  If I could guess, I'd say that I spend 2-4 hours a week working on posts, general upkeep, and finding and reviewing songs.  It doesn't sound like much, but it's a lot for a stay-at-home mom who can't work on her computer when her cute, but curious, toddler is awake.
Bobby Gilles: How does the goal of the Collective dovetail with your own goal as a singer-songwriter?
Caroline Cobb: Actually, the idea for The Scripture to Music Collective came from a personal songwriting goal that I made when I turned 29: I decided to write a song for every book of the Bible in one year, and I would finish by the time I turned 30 on 11/11/11.  I have two albums under my belt, but I had never been this intentional about writing from the Bible.  As I delved in, I began to think "why would I keep this idea to myself?  What if more songwriters joined in?  What if this were a collective project instead of just an individual one?  Wouldn't we be able tell the Story more thoroughly and more vividly?" I still had my own personal goal of writing a song for every book, but I wanted to create a space for others to join me.
I'm not sure if you've ever heard of TheJohnnyCashProject, but I think it's a good illustration of what my hope is for The Scripture to Music Collective.  The people at The Johnny Cash Project have created this beautiful music video using one of Cash's songs, with images from thousands of artists all over the world. If you watch the video, you'll see that the song and the images are cohesive and consistent, and yet the artists' renditions of the individual frames are unique and evocative.  In other words, the artists are all telling the same story, but the story is richer and more vivid for the efforts of the individual artists.  This is my hope for The Scripture to Music Collective.

Bobby Gilles: Tell me about your own upcoming Scripture To Music album. What gave you the idea?
Caroline Cobb: After I completed my goal to write a song for every book of the Bible, I did a house show tour all across Texas.  My hope for these shows was not just to share a bunch of new songs, but to tell God's Story from start to finish, as well as I could in an hour and a half, using some of the songs I had written. Night after night, people really responded.  They were refreshed and encouraged, and they were wanting to go home and dig back into their Bibles.  This was so encouraging for me.  It made me long to have something more to give them – something that they could take with them and listen to on their iPod or in their car.  So, I decided to take a step of faith and try to make a studio album using many of the same songs that I played during those house shows.
Bobby Gilles: I'm assuming you won't have a song for all 66 books of the Bible – how are you breaking down the Bible story on a per-song basis?
Caroline Cobb: For now, I have a goal to make a 10-12 song album that we're currently calling "The Scripture to Music Project, Volume 1".  My hope is that – if this first album is successful – I can eventually make a "volume 2" (and maybe a "volume 3"!). We haven't nailed down the tracks that will be on the album yet, but I have a tentative list of songs that cover creation and the fall; King David and the line of Christ; Old Testament prophecies about Christ and the day of the Lord; Jesus' life, death, and resurrection; and the second coming.  I am planning to include a "guidebook" of sorts in the deluxe download of the album that will include the biblical context behind each song, and will help connect the dots between each song.

Bobby Gilles: How can people help?
Caroline Cobb:Thank you so much for asking, Bobby.  I just launched a Kickstarter campaign on April 11, and have until May 11 to raise the funds I need to make this album.  Through Kickstarter, people can back the project and receive really cool rewards in return – like a free house show or a song written just for them from their favorite passage of scripture.  Again, I want people to know that my heart is not just to make an album of my songs, but to tell God's Story, from beginning to end, in a creative way.  I would love for people to be a part of the team that helps me to do that!  As I mentioned before, I have two albums under my belt, but I have never been so passionate about making an album as I am about this one.