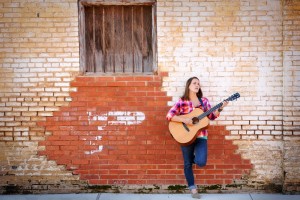 Less than two years ago Kristen and I became acquainted with the music and ministry of Caroline Cobb, a Texas singer-songwriter who lives, breaths and shares the biblical story of redemption. She had a dream to build a crowdsourced "soundtrack to scripture" — indie songs and major-label songs that tell God's story. That's what she's done with with the Scripture To Music Collective.
And now she's done it with an ambitious collection of her own recordings, The Blood and The Breath:

You can download it on iTunes today. You can also order a physical CD and even a companion devotional e-Book here.
Listening to this record is like sojourning through the topography and stories of the Bible, beginning with Genesis (as in "Garden"):
Pick the lies right off the tree
Your eyes are opened but not to see
Build a tower to the sky
You think you know, you think you're wise
Melt your gold down to a god
Sell your soul to pay for your facade
Trade your truth for silence
I'll let you loose if you want it
and ending with the return of Christ. And just as in Scripture, each song points to the cross.  Caroline paints the scene with roots music that makes me feel like I'm there, walking the dusty roads of ancient Israel and the hard trails of the wilderness. And her lyrics are both direct and metaphorical, as in Everything You've Heard.
You've heard it said, "Don't you murder anyone"
But you carry your anger like a knife
And your insults like a gun

You've heard it said, "Don't you cheat on your wife"
But your mind is a motel room
And you undress the other woman with your eyes
The idea for The Blood and The Breath came from a songwriting goal that Caroline gave herself in late 2010: to write a song for every book of the Bible in just one year, ending on her 30th birthday, November 11, 2011. 11/11/11. This album contains several of those songs from that year-long challenge. She enlisted producer Josh Moore (Derek Webb, Matthew Perryman Jones, Sandra McCracken) and recorded at Shane & Shane's studio near Dallas.
You can get The Blood and The Breath in the afore-linked websites and from Caroline's site. For more about Caroline's music and ministry, see this interview I conducted with her last year.