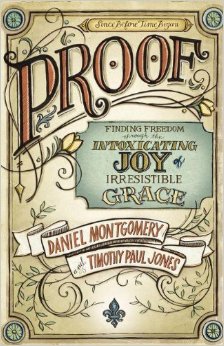 This spring Bobby told you that he was inspired to begin writing the lyrics to "Awesome Is Your Power" on our worship record Parker's Mercy Brigade when he was editing a draft of Proof: Finding Freedom Through The Intoxicating Joy Of Irresistible Grace by Daniel Montgomery and Timothy Paul Jones, from our church Sojourn (Daniel is the Lead Pastor).
My husband Bobby and I read PROOF together while traveling this summer and I was delighted to be able to easily follow along as Bobby read the book aloud to me. That says a lot about the easy reception of this book by readers and listeners alike! As a member of Sojourn Community Church, I greatly appreciated this helpful discussion of God's
Planned Grace
Resurrecting Grace
Overcoming Grace
Outgrageous Grace
Forever Grace
faithfully expounded by Pastor Daniel Montgomery and Timothy Paul. I had the privilege of hearing the early workings of PROOF as taught in a sermon series at Sojourn a few years ago. Needless to say, I was eager to be refreshed and enlightened in my understanding of the doctrines of God's grace as I read (listened to) PROOF.

This book is a certainly a scholarly work, but it isn't just for seminarians. It's for ALL theologians–anyone pursuing knowledge of God. And it was written to be easily accessible to all people. I especially want to encourage other women to dig in to this book — it will be a great help to you in all the work God has given you to do at home, in the marketplace, in your neighborhoods and churches.
Get Proof: Finding Freedom Through The Intoxicating Joy Of Irresistible Grace  here.