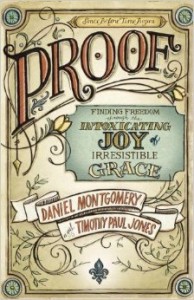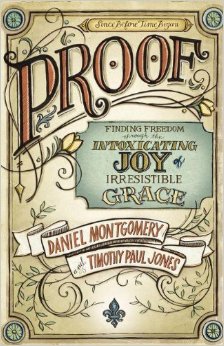 Near the end of May, Zondervan is publishing a book by Sojourn pastors Daniel Montgomery and Timothy Paul Jones called Proof: Finding Freedom Through The Intoxicating Joy Of Irresistible Grace. Pastor Daniel asked me to proofread a draft last fall. While reading their chapter on Resurrecting Grace, I got an idea for a song.
I scribbled down some lyrics and took them to Kristen, who helped me edit and finish the lyrics. Then we took them to co-producer Jonatan Barahona — we had a feeling that the lyrics would inspire him to come up with a great melody, which is just what he did. The result was a last-minute addition to the album Parker's Mercy Brigade, a song called "Awesome Is Your Power."
After songs like "Chase Away My Unbelief" and "Bless The Lord Who Gives And Takes," it made sense for us to move into a part of the record that celebrates the victory Christ achieved for us, and reorients our thinking to God's perspective — that life in Christ is "forevermore," regardless of what the cemetery indicates or what our feelings tell us.
Pastor Daniel likes to say that every conversion is a deathbed conversion, because the Bible says we were dead in our sins (Colossians 2:13; Ephesians 2:1-10). So when we turn to Christ, our spirit "comes alive," just as our bodies will rise from their graves in the Last Day. "Ground is breaking, dead are waking forevermore!  This is a powerful song to sing on Easter, any Sunday, or anytime you want to celebrate eternal life in Christ ("Awesome Is Your Power" chord chart here, and free multitracks here, playable on any platform that supports mp3).
And "Awesome Is Your Power" was a fun song to record. Everyone from the musicians to group vocalists really got into it. After all, there's nothing worth celebrating more than eternal life in the Kingdom of God. Hear it in the audio player below: Our listen and read the lyrics in the lyric video for "Awesome Is Your Power," from Kristen's YouTube channel: