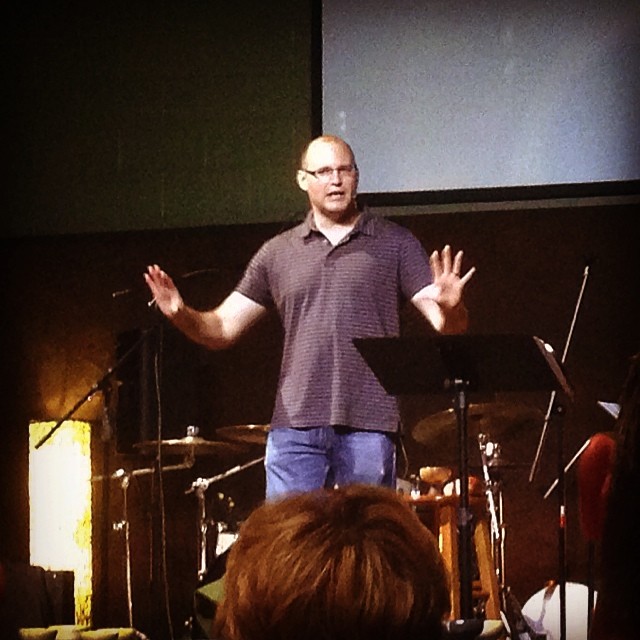 This past Sunday at Sojourn New Albany, Bobby preached He Is Not Silent, from Nehemiah 8:1-8, which is part of our church's summer sermon series Revival.

Listen in the audio player above.
He began by describing the "butterfly" scene in Patch Adams, where Patch cries out to God following the death of his girlfriend Karin. Patch then sees a butterfly, reminding him of the time Karin told him that sometimes she wishes she was a caterpillar that could turn into a butterfly. Patch takes this as a sign from God that Karin is okay. Bobby said,
"And that's what we want, isn't it? On our darkest days, we wonder, "Where is God?" We want a sign. We want the butterfly. We'd give anything for God to speak in an audible voice. But, often, it seems like God is silent.

When my wife Kristen and I had to say goodbye to our son Parker, who was stillborn, I spent six hours holding his body. I wanted the butterfly, but none came. God did speak, but in a different way. I'll tell you about that later …"
Then after reading Nehemiah 8:1-8, Bobby asked why God's people stood for a six-hour scripture reading in this passage, responding in praise and worship. Could it be that they truly understood the book of the Law as the very words of God?
Another brief excerpt:
"Imagine your favorite story is true. Somehow you find out that those characters really exist. And the things they do, you can do. Would you like to play Quidditch, or travel through the Looking Glass, or the magic wardrobe? Journey to the Center of the Earth, or boldly go where no one's gone before? Or simply play in the Secret Garden?

If the Bible is true, then something far greater than any of those things can happen to us, anytime, day or night. If the Bible is true, then all we have to do when we want God to speak to us in an audible voice is to read it out loud.

If the Bible is true, and we want revival in this place, we'll get revival when our hearts truly grasp what happens here every week: hundreds of people with the very Spirit of God inside them, reciting the very words of God aloud to each other.

Is there anything we as a people do that is more beautiful than that? More powerful than that?"
Finally, Bobby posted some links "For Further Reading" in Sojourn's online community, The City. These books go into detail about the authority, clarity, necessity, and the sufficiency of scripture. I'll republish Bobby's post on The City here:
Hey friends, yesterday I preached "He Is Not Silent" from Nehemiah 8:1-8, the first of three sermons on The Revival Of Nehemiah. Below, I'll give you Amazon links to the books I listed in the "Further Reading" section of your bulletin notes, in both paper and Kindle editions.
First, remember that I talked a lot about the Bible as the ultimate story, and I referenced several other stories, from Harry Potter to Lord of the Rings. Check out the details of a conference Sojourn is hosting in October, about the power of story: why we love stories, what they say about us, and how the most enduring stories in literature provide "echoes" of the Bible's story. There's even a workshop on "The Spirituality Of Science Fiction." Maybe you'd rather kiss a Wookiee than attend that particular workshop, but if you do want to beam yourself up to the conference, it's cheapest if you register before August 15.
Now, here are the book links, in paper and Kindle versions: