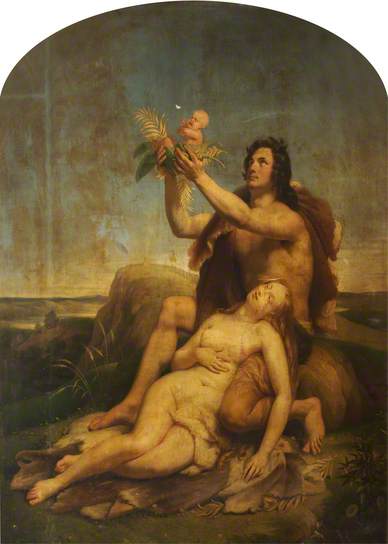 "Now Adam knew his wife, Eve, and she became pregnant. When she gave birth to Cain, she said, "With the Lord's help, I have produced a man!"" (Genesis 4:1)
I have thought about Eve's exclamation many times in the last few years. Before our son Parker was stillborn in October 2012, while I was still carrying him, I thought about how it would only be with the help of the Lord that I, like Eve, would produce a man.
After Parker died, I thought, "Still, it was with the help of the Lord that I labored and produced a little man who now lives with my Lord in heaven. The Lord helped me labor for 48 hours through the care of my husband and all the nurses and physicians who attended me and Parker.  The Lord helped by bringing sweet salvation to my precious boy as He received Parker into His kingdom.  Yes, it was with the help of the Lord…"
And now, as I carry our daughter and eagerly await her scheduled caesarean birth in November, I'm pondering again how she will also be brought forth with the help of the Lord.  I may not have to labor long and hard to deliver her, but she will be produced with the help of the Lord as He guides my doctor's hands that skillfully wield the surgeon's knife, and as He guides the hands of the anesthesiologist and all the attending nurses and physicians.
When I think of every woman who's ever labored to produce life, I know that it has been with the help of the Lord.  How would it be possible without His help? Our children who live with us here would not be delivered into our arms, breathing, crying, eager to nurse and be known and loved, apart from our Maker's help.  Likewise, our children who die in the womb or at birth or shortly thereafter or in early childhood would never be delivered safely into the kingdom of God, without the help of our Maker, Redeemer and Savior.
Think about Eve's testimony for a minute. She was the first woman ever. The first to know a man. The first to be pregnant. The first to give birth. She and her husband Adam had no one but the Lord attending them as she labored to produce (or translated another way, to acquire) her son.  There was no precedent. They were it! There were no birth stories before this one. This was the first!  And what did Eve know as she held her living, breathing baby boy? She knew it was with the help of the Lord that she had acquired and produced this gift of life.
Why don't we always know this, sisters and brothers? Why do we sometimes boast in our own strength as if we had made these children and delivered them ourselves? Why do we make others feel less because they cannot labor as long and hard as we have, or because they're unable to conceive and carry children in the first place? Why do we think that we have somehow failed to fully triumph in labor if we didn't get to have a natural childbirth but ended up having an emergency c-section or opting to schedule one in the first place? Why don't we boast in the Lord who is our help?
Why don't we realize that every child brought forth into our families is brought forth with the help of the Lord? Whether by ease of conception, or by natural birth, or through fertility treatments, or adoption, or foster care, or the blending of step families, the Lord is helping us.  He is giving us children. He is helping us to "produce and acquire" them.
And let us not forget that when He gives children and then takes them, He is still helping us and them.  Is not His salvation our greatest need and our greatest help?! And has He not done it? And won't He help us who are left here grieving the losses of our children? Yes, He most certainly will.  With the help of the Lord we produce and acquire and receive and are parted from our children.
Let us then, always boast in the Lord who is our sure salvation and our greatest Help.