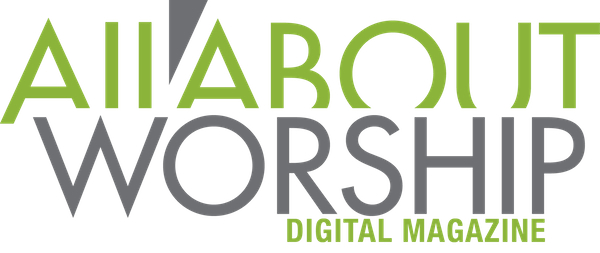 One of the best developments for worship leaders, songwriters and ministries in the past several years has been the growth of All About Worship, a resource that exists to equip, encourage and inspire worship leaders and their teams. Kristen and I are thankful for these AAW ressources — a website, podcast, and a series of free compilation records, featuring the music of worship leaders from here, there and everywhere. And for songwriters, AAW has launched the Songwriter's Cafe and the Worship Writers Network.
You'd think that all of this must be the product of a major media company, but it started as the grassroots effort of one worship leader named Wisdom Moon. It now includes a team of leaders who have caught the vision and are taking it to new places, most recently with the launch of a digital magazine. I caught up with Wisdom for this installment of the My Song In The Night interview series, about how AAW got started, how he keeps it going, and how each of the features and web properties benefit worship leaders and songwriters from churches around the world.
Bobby Gilles: Why did you found All About Worship?
Wisdom Moon: I love sharing this story. Over seven years ago I received an iPod as a Christmas present. As a result, I discovered the world of podcasts. Naturally, as a worship leader, I searched for podcasts that specifically focused on worship ministry. At that time there weren't that many podcasts out there in general. I found a couple of worship podcasts, but decided to give it a try myself…not just because I love playing with new technology, but because I wanted to help equip, encourage, and inspire other worship leaders.
I had some recording gear, so I taught myself how to podcast and the first month we had over 100 listeners! It is amazing to see something I started as a little "hobby" grow into a ministry that reaches folks across the globe.
Bobby Gilles: All About Worship has so many helpful features and properties – from website to podcast, compilation records, a digital magazine and more. What came first? And how do you decide when to branch out into a new format or medium?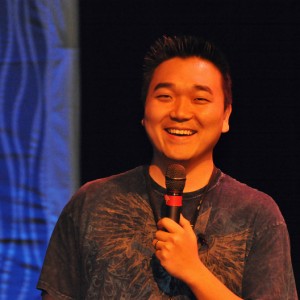 Wisdom Moon: It was originally just a monthly podcast. I didn't even have a website until later on. Eventually, I launched the website and we started adding more and more resources to the site.
Last Fall we released the AAW Collective, Volume 1. We released the first issue of our digital magazine last month (August 2012).
We also launched TheSongwritersCafe.com last January, so almost 2 years ago now.
It's often hard for me to know when it's the right time to launch something new. I tend to have a ton of ideas all the time (I'm an entrepreneur, can you tell?) and I've had to learn to set aside new ideas at times because it wasn't the right timing, and sometimes just let new ideas die because it didn't line up with what God's called me to do.
Usually, it comes down to 3 things:
Is God calling me to do this?
Do I have time to devote to this?
Do I have the resources to pull it off?
Obviously, if I am 100% convinced that #1 is a yes, then I don't really worry about #2 and #3 because I know God will take care of that.
Bobby Gilles: How do you decide which artists to include on the All About Worship Collective compilations? How do you put them together?
Wisdom Moon: The AAW Collective is something we started more recently. It's a free worship album that we hope is a great resource to local churches around the world.
I have a good relationship with all the major "worship" labels, so I typically work with them to feature a few songs from their artists. I also have a big heart for indie artists and songwriters, so up until the current volume, I've featured songs by indie artist friends of mine. To me, relationship is key. It's not just about great songs, but I want to know that the person who wrote it has godly character.
We've received countless emails from indie artists about getting their songs on the Collective, but we just don't have the manpower to be able to make it an open submission. So, we launched WorshipWritersNetwork.com to give indie artists a way to submit their songs for the Collective. Every indie artist you see on the current volume (4) is a part of WWN.
Bobby Gilles: Why did you decide to launch The Songwriter's Café, rather than just keep "songwriting" as a forum on All About Worship?
Wisdom Moon: We created a separate site for The Songwriter's Cafe because we didn't want it to just be for worship songwriters. We wanted it to be a resource for all Christian songwriters, no matter what their genre of music.
Bobby Gilles: Tell me about the Monthly Songwriter's Challenge.
Wisdom Moon: The Monthly Songwriting Challenge is a resource we provide to Christian songwriters on TheSongwritersCafe.com. We are challenging growing songwriters to write at least one song a month. To help with that, we provide a topic that they can write on. Obviously, they don't have to write on that, but if they need somewhere to start, that's what it's for.
And, depending on your level of commitment, one song a month may not be enough. So, this month we started providing a new topic for every week! Now songwriters can just visit our site and get ideas for topics to write about each week.
And, if they want to take it to the next level and share their new song with fellow writers, they can join our private Facebook group, which is one of the perks of becoming a Premium member on TheSongwritersCafe.com.
Bobby Gilles: You have distinct podcasts for All About Worship and The Songwriter's Café. Do you find it difficult to maintain each of them? Have you found that you're reaching a bit of a different audience with each?
Wisdom Moon: Until recently, I had a full-time day job and worked on AAW and TSC on the side. Scheduling Skype or phone interviews was challenging at times, but I had help from my awesome team, so it all usually worked out somehow.
Even now, as I recently launched out doing this full-time, I still often feel I need about 40 more hours a week to get everything done, especially with the launch of our new monthly magazine and one of the co-hosts of The Songwriter's Cafe Podcast stepping down. But, God's grace is sufficient.
As far as reach, some of our audience listens to both podcasts because they are both a worship leader and a songwriter, but we definitely have listeners who only fit into one or the other.
Bobby Gilles: Now you have a new All About Worship e-magazine. Do you intend for this to mainly be a way to package the web/blog content in an attractive format, or do you plan to cover things with a different focus, depth or angle?
Wisdom Moon: I'm really excited about the new digital magazine! It is actually a separate resource that provides unique content not available on our site or anywhere else. Some of it may show up on our site, but mostly it's exclusive to the magazine. For example, our featured interviews in the magazine in October are Kari Jobe and Brenton Brown. You will not be able to find that content anywhere else.
Bobby Gilles: The Worship Writers Network is another one of your new ventures. How is that different than Songwriter's Café, and how could writers benefit by joining WWN?
Wisdom Moon: WWN, as I briefly mentioned earlier, is for worship songwriters. It has many benefits for songwriters who are serious about their music and are looking for more opportunities to get their music out there.
Some of the benefits include: a bio page on the site, a guaranteed album review either on AAW or TSC, regularly promoted through our various social media streams, $50 discount on services at Uphill Studios, ability to submit songs for upcoming AAW Collectives, and more.
Bobby Gilles: How do you do all this? How have you grown your volunteer team, and how do you divide tasks?
Wisdom Moon: I really could not do it without my team. They are amazing! They've caught the vision of the ministry and have a passion to equip, encourage, and inspire worship leaders and songwriters. Many of them put hours into it each week. We are all just blown away by what God is doing through these ministries!
Each person on the team brings unique strengths to the table, so tasks are often divided up according to their strengths and/or their commitment level. Some are only able to review an album occasionally and some volunteer in multiple areas every week.