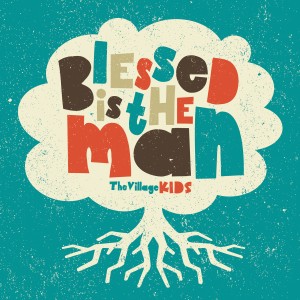 The Village Church is a multi-campus worship community in the Dallas-Ft. Worth, Texas area, pastored by author/Act29 President Matt Chandler. It's also home to a vibrant music community, filled with songwriters and musicians with a passion for leading worship and giving new songs to the church.
In addition to worship songs for adults (like this year's Dove-nominated song "Glorious Day," written by Village worship pastor Michael Bleecker and John Wilbur Chapman) they've also produced two albums of songs for kids, including the brand new Blessed Is The Man, available here on iTunes and here on Amazon.com.
Most of the 10 songs on Blessed Is The Man are verses of the Bible set to music, to help children memorize Scripture – an idea taken from Psalms 119:11. The music is diverse, skillfully played and catchy. I talked with producer/Associate Worship Minister Jeff Capps in this latest installment of the My Song In The Night interview series. Dive in with us to learn more about writing songs for children, and to see how God is using The Village in this important ministry.
Bobby Gilles: Do you find it easier to write children's music than writing for adults, or more difficult?
Jeff Capps: Writing children's music is a welcomed challenge for me because of the difficulty involved in communicating biblical truth that translates to a certain age group.
Bobby Gilles: What different skillsets are needed when writing for kids? Are there any pitfalls to avoid, that writers who haven't specifically written for kids might fall into?
Jeff Capps: A deep knowledge and love for Scripture is imperative when writing for kids. You also need to be able to write with clarity. I continually come back to this, whether I am writing a children's song or a song for the church at large.
Many times music takes a front seat when writing for kids, in hopes to engage them emotionally without taking into consideration the necessity for strong biblical truth supporting that music. Music is the picture frame that decorates and draws our attention towards the picture. We want to be captured by what deserves our attention, the gospel of Jesus Christ.
Bobby Gilles: Your new Village Kids record Blessed is the Man is in large part made up of scripture memory songs, whereas the previous record Jesus Came To Save Sinners contained songs dealing with five foundational truths of scripture. How do you come up with themes for children's albums?
Jeff Capps: The themes for these albums have derived directly from what we do corporately each week in Little Village (Birth – K) and Kids' Village (1st – 5th). Jesus Came To Save Sinners was an album that we wrote to remind children of the gospel truths we teach weekly in Little Village, and Blessed is the Man is a collection of songs we have been singing for years in Kids' Village to help children understand and love the gospel by remembering God's Word.
Bobby Gilles: Besides The Village worship band you're using kids voices on Blessed is the Man. Did you do any recording Sunday children's Sunday school time, or did you put out any open calls for kids to come to the studio at a certain time?
Jeff Capps: We recorded all the kids' vocals on a few different weekends in our worship center. Our hope was to include kids from our Kids' Village ministry and to utilize other gifted volunteers who help lead these age groups.
Bobby Gilles: How many songwriters were involved? Did you do any retreats, workshops or co-writing sessions for the album?
Jeff Capps: There were seven different writers involved with this album. Many of these songs were written in response to the scripture memory schedule that is given in Kids' Village.
Bobby Gilles: Do Village Kids records use many of the same vocalists, writers, musicians and production people as The Village Church worship albums, or do you have teams that specialize in one or another?
Jeff Capps: We like to utilize our worship staff as a consistent voice on the majority of worship albums we release at the church. Pre-production and vocals are done at our church studio and the rest of the recording is done at a few studios around town.
Bobby Gilles: What's your target age range for this album? Is it more for toddlers or elementary students?
Jeff Capps: The age range is 1st-5th graders specifically but our hope is that this resource encourages and bring about gospel-centered conversations within families wherever they may be listening or singing these songs.
Bobby Gilles: What kind of musical influences went into Blessed is the Man?
Jeff Capps: We were influenced by a variety of genres, from power-pop to hip-hop, anything with energy and hooks. The hope was for it to be musically diverse and at the same time have a consistency that allows the listener to travel from track to track and hear stylistic/sonic cohesiveness within the album.
Bobby Gilles: Do you plan to continue releasing Village Kids records? Is there a long-range plan or do you take each record one at a time?
Jeff Capps: We take it record by record and are always writing to serve the church with songs that remind and teach of the glorious gospel of Jesus Christ.