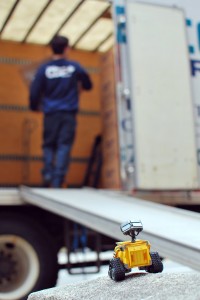 Churches relocate for different reasons. Your church may relocate someday. And if it lasts long enough, it may relocate several times. So you've got two primary communication challenges:
Communicating the church move to your church members and regular attendees (the congregation)
Communicating the church move to your neighbors (the community)
Last week we began covering the basics of how to communicate "Our church is moving to a new location" to each of those audiences, in the first of a two-part series. We used my church (Sojourn Community Church, in Louisville, KY) for the example Our Church Is Moving: How To Communicate To The Outside Community. Today, we'll talk about communications with your church members and regular attendees:
"Our Church Is Moving!" How To Communicate Effectively To Your Own Congregation
This can be difficult, because the people in your congregation likely have fond memories of big events that took place in your current building:
Their salvation, and the salvation of friends and family members
Weddings
Funerals
Baby Dedications
Meeting their future spouse
and the countless joys of corporate worship environments: praising Christ together, growing in God's Word, forming friendships, crying out to God, hearing from God, etc.
What Is The Church? Hint: It's Not A Building
Christ's church is His people. We don't "go to church," we are the church. In communicating a church relocation, you must encourage your people to remember that they are the church. Acknowledge the ways in which God has led, blessed, instructed and formed them in your own building, and inspire them with the truth that God will do that in the new place.
If you're moving because you need a bigger building, then remind them that this is what families do: they make room for each other. God builds His family by saving those who were perishing, by finding the lost, by calling His children home. He doesn't call them to a life of "Just me and Jesus," but to a body of people called the Church, a new family identity that is formed and fueled by the gospel. Moving to a bigger building is a tangible way of saying "We want to make room for more people to see God's church worshiping together, to hear the gospel, to accept Christ and to join us.
Case Study: Sojourn's First Campus
For over five years, Sojourn Community Church worshiped corporately in rented space. Over those years we gathered in a series of churches, all of which existed off Bardstown Road. When we bought our first building, we left our rental situation at Highland Christian Fellowship for the building we now call The 930 Art Center, a part of the current Sojourn Midtown Campus. This was a two-mile move. Not a big deal, right?
Wrong.
Bardstown Road is the epicenter of Louisville's independent art scene. Musicians, singer-songwriters, visual artists, independent film makers, writers and creatives of all types feel most at home in and around Bardstown Road, frequenting the coffee houses, bars, restaurants, and independent bookstores, record stores and other social hotspots (Louisville's largest indie record store, Ear Xtacy, has since had to move, but was a Bardstown Road fixture for years). Walk or drive down Bardstown Road and the surrounding streets, known as the Highlands section of Louisville, and you can feel the creative energy.
Louisville residents have often called Sojourn "the artsy church" because many of our founders and early attendees were creatives and arts lovers. Our church culture was very "Highlands" or "Bardstown Road-ish." But we couldn't find an adequate building for sale in the Highlands proper. God led us to a great place, less than two miles away, but this building we now call The 930 was in Germantown, not the Highlands.
Germantown is a predominantly blue collar district, with a wide range of incomes but a lot of poverty. And few Louisvillians thought of "the arts" and "Germantown" together.
The Challenge: Would Moving Destroy Our Church Culture?
It's a legitimate questions to ask. Our leaders, many of whom are themselves creatives, stressed these points:
While the Highlands is a cool place for young independent artists to go, many cannot afford to live there. A lot of the big, stately old houses off Bardstown Road provide a home for attorneys, doctors, business executives and other upper class Louisvillians who work in downtown high rises or in the East End.
Germantown housing is affordable. In fact, more artists lived in Germantown already than most people would have thought. Many of our young members who still lived in college housing or with their parents would not have been able to find living quarters in the Highlands on their budget, but Germantown was a different story.
Germantown needs the gospel as much as the Highlands.
We're still right next to the Highlands — it's not like we were moving far.
Germantown needed the arts. The Highlands already had the arts.
Our members understood all these points and were thrilled to use their skills together, turning the former Isaac Shelby Elementary School into The 930 Art Center. Sojourners did much of the labor on our building — knocking down walls, sanding floors, painting, cleaning and more.
And many Sojourners moved into Germantown and the neighborhood literally "right across the tracks," Shelby Park. They hosted community block parties, joined the neighborhood association, and made friends with residents. Sojourn began hosting a regular Fall Festival for Germantown, and later began quarterly free Health Clinics.
But we didn't just drop our "arts church" culture like old shoes. This is why we turned our building into an arts center. For the first time, we owned a building that provided worship space on Sunday, office space for our staff, and an art gallery for visual exhibitions and musical performances. Our neighbors didn't need to travel downtown or to the Highlands to experience art — they had a neighborhood art center.
My Church Isn't "Artsy." What Can I Learn From This?
Be sensitive to your history, and the feelings of your members
Acknowledge that your current location has played a part in forming your church culture
Look for ways to continue that culture in your new neighborhood, in a manner that won't seem out of place or counter-productive (Although we opened an art gallery, we have used it for everything from the Germantown "Our Neighborhood" exhibit to bluegrass music concerts. If we lived in Soho, our gallery would look different).
Embrace your new neighborhood. The people there can teach you things and provide experiences you'll benefit from and enjoy. For more on this, read When Your Church Relocates, Part 1.