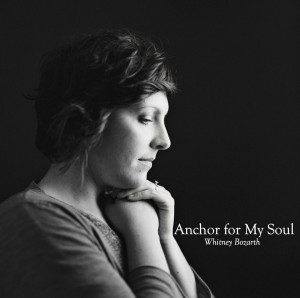 Although it's been a couple years, it seems like yesterday that Kristen and I met Jacob and Whitney Bozarth, fellow members of Sojourn Church. We don't get to see them very often (the Bozarths are a part of our East Louisville campus, while we're at the New Albany campus). But we love their heart for the Lord and for people.
And so we're thrilled that Whitney has released Anchor For My Soul, a 10-song collection of songs for personal and public worship. Anchor For My Soul features Whitney's vocals and songwriting, as well as the musicianship of many of our musician friends in the Louisville area. It was even co-produced by the same friend with whom I co-produced Kristen's record Parker's Mercy Brigade — Jonatan Barahona.
The songs on Anchor For My Soul feature a musical aesthetic similar to Bifrost Arts and Page CXVI, but with less of an emphasis on retuned hymns (indeed, only "Nothing But The Blood" gets the retuned treatment — the rest are originals and psalm adaptations). Whitney also reminds me of Sarah McLachlan and Carole King.
This is great music for a rainy day — either for when you're feeling wistful yet chill, or when you're feeling blue and you want to be reminded of God's truth, but the thought of leaping for joy just seems … false.
That's not to say there aren't stirring, uplifting moments on this record. For instance, the bridge on title cut "Anchor For My Soul" will have you lifting your hands and tapping your feet. But the overall tone is both lush and subdued, with a lot of dynamics in the instrumentation — sparse keys and strings give way to full throttle bands, who then surrender back to the gentle, stripped down sounds.
Lyrically, Whitney is a gifted poet who infuses biblical imagery throughout these ten songs. Anchor For My Soul is all about searching for — and finding — God's "light in a hopeless place" ("Shine Your Light"). Your best bet is to get it on Whitney's Bandcamp page — you can download the mp3 album for $7.99 or order the CD for $10.