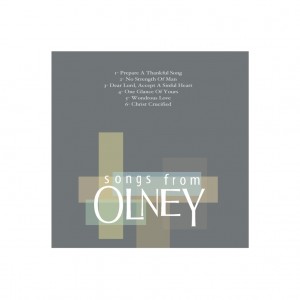 The Oaks Music has released a new EP of "retuned hymns" from the works of John Newton and William Cowper, two of the greatest hymnists in the English hymn tradition. Oaks Music is the music ministry of The Oaks Community Church in Middleton, Ohio, a Sojourn Network church.
The Oaks Music has an acoustic style of music that may remind you of recent "hitmakers" like Mumford and Sons, the Avett Brothers and Rend Collective Experiment. However, this is no new thing for The Oaks. I visited their church back in 2008 and have remained acquainted ever since — this is who they were then, and this is who they are now.
I talked to worship leader Grayson Schick about the new EP, about the art of revising hymns and about the current popularity of acoustic music and bluegrass/old time instruments in this interview. Read along, and check out Songs From Olney by The Oaks Music.
Bobby Gilles: What are the Olney hymns?
Grayson Schick: The Olney hymns are a (mostly neglected) collection of works by John Newton & William Cowper. These men wrote these hymns for their rural and uneducated brothers and sisters at the Olney parish (in the UK) where Newton pastored and Cowper attended. Only a half dozen or so making their way into the Church's hymnals these days, while over 300 lay dormant. Newton's "Amazing Grace (Faith's Review & Expectation)" is by far the most famous.
We decided to work with them for two reasons:
First, we have a strong desire to put melody and music to texts which have never been sung by the contemporary church, at least to our knowledge. We continue to be blessed by and use many of the contemporary hymns as well as the "re-tuned" ones, but saw a huge opportunity and resource in the Olney Hymn texts not being utilized.
And secondly, we've always simply loved the work of Newton & Cowper (Cowper's "There Is A Fountain" is an Oaks favorite). When we came across the Olney Hymns we were so excited we couldn't help but start working with them musically.
Bobby Gilles: How many songs did you record? Out of all the Olney hymns, why did you choose these?
Grayson Schick: We recorded six songs.
We chose the songs based on observations from our congregation as well as lyrical content. The songs on the EP have been the best received hymns from Olney for The Oaks and have stayed around the longest. We've been singing a couple of these for 4 + years. Additionally, there were some biblical themes and facets of the gospel covered in these songs which can be easy to neglect, such as God's law- In "No Strength Of Man," we sing of our inability to obey God's law and then refrain with a reminder of Christ's work:
"but Christ fulfilled the whole law // And lends His pardoning voice // To change slaves into children // And duty into choice
Bobby Gilles: How did you work with the material? Do you prefer to simply write new melodies but leave the words alone, or to revise the words and/or add new words?
Grayson Schick: Well, it's funny, we love and respect Newton and Cowper's work so much, we hesitated to mess with their words so we mostly left them alone and added melodies. There were a few things we changed though. These hymns didn't come to us with choruses or refrains so we created those from other verses within each text. Thankfully, these guys love writing about 20 verses a song from which to pick! We adapted a word here or there to make it more easily understood, but with the exception of "Lord Accept A Sinful Heart," this was minimal.
Bobby Gilles: Have you done these songs at The Oaks already? If so, how do the worshipers respond and interact with these hymns?
Grayson Schick: We have done all the songs at The Oaks. Some for a few years and others a handful of times, and the response has been incredible. The interaction seems to be an extremely personal one. Our folks have really latched onto singing these old texts in their own musical vernacular, sort of speak. It's a family activity of sorts, with everyone singing along to a song written by your brother or sister. It's super cool. The richness of the texts encourage a positive reception as well.
Bobby Gilles: When it comes to arrangements and instrumentation, how do you decide to "paint the text" the way you do? 
Grayson Schick: Wow, that's a great question. It was an interesting process as this was our first project. For the first half of the project, a crew of us would get together a couple times a month and kind of lock ourselves in a room and simply try different things. We tried a LOT of different directions, arrangements, and instrumentation, and much of the time there was too much going on. Looking back, some of it was just being creative for the sake of being creative while ignoring what you said earlier, this idea of "painting the text."
As we went along, we more clearly saw a distinction in lyrical content between verses and chorus — verses are mostly about our sin, our weakness, God's bigness, His righteousness, His law, our inability to follow it, with the choruses being much more about our hope and standing with Jesus. We started to try and arrange with the hope of assisting and highlighting these distinctions. In the end, what you hear on the EP is a great representation of what you'd hear on a Sunday at The Oaks. With the arrangements and especially the instrumentation, I guess you could say we landed back home where we started. It took us a bit to figure that out though.
Bobby Gilles: Thanks in large part to Mumford and Sons, and Rend Collective Experiment, a lot of worship artists are beginning to incorporate acoustic instruments into their music. The Oaks worship has had a strong bluegrass/acoustic base for years. What do you think about the recent trend? 
Grayson Schick: It's an interesting trend. Yeah, it's funny because we've had a bluegrass / acoustic vibe to our music since the start of The Oaks, not because we were ahead of the curve but simply due to our musicians and their musical skill set and lineage. Then, somewhere along the way, banjos and driving kick drums got married and Mumford came out with their first release, and music on Sundays for us went from "old timey" or "hillbilly" to "cool", seemingly overnight.
My gut tells me this will fade, but for the time being I'm thankful for this current openness to bluegrass / acoustic instrumentation because we are in a area with a pretty big bluegrass listening audience, and it's amazing to see those older folks look to their side and see the younger folks tappin' their feet instead of rolling their eyes. It's a rare thing to experience that and right now it's happening with bluegrass, both in the church and out. Our team has grown and our preferences always change, but as a church I think bluegrass / Americana / acoustic will always be our home. By the way, Brooks keeps telling me that Motown is Sojourn's musical sweet spot, can you comment on this?
Bobby Gilles: I don't know about Motown being Sojourn's sweet spot, but Brooks is talented enough that his sweet spot is whatever he wants it to be, at any given time. Crazy guy.
When will this EP be available? Will it be on iTunes, Amazon, Noisetrade, your website and/or somewhere else? 
Grayson Schick: The EP is available right now! It is on iTunes and Noisetrade currently or you can order a physical copy through our website – theoakscommunitychurch.org.
We're planning to get in the studio again this Fall. Might be a full length Olney project or potentially a split EP.