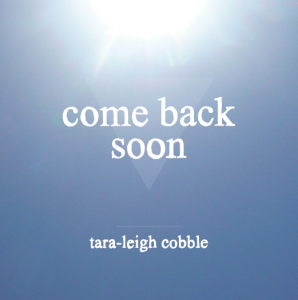 Last year I interviewed Tara-Leigh Cobble, an author, speaker and singer-songwriter. Tara-Leigh and Kristen have been good friends since their days in New York City. Now of course Kristen and I are a part of Sojourn in Louisville, while Tara-Leigh is a part of Greenville, SC's NewSpring Church.
Last year, Tara-Leigh took part in NewSpring's worship album No Other Name. Tomorrow, May 21 2013, Tara-Leigh releases her first solo record of worship songs, Come Back Soon. You can get Come Back Soon from her website and from iTunes. And you can register to win one — details on that in just a minute.
Come Back Soon was birthed out of Tara-Leigh's desire to write an album of songs for congregational worship, following a pilgrimage to the Holy Land that left her longing for Christ's return. Of that trip, she wrote:
"I miss Him more now. I long for Him with a deeper intensity. But it has granted my heart something that almost feels giddy, anticipating that day when we will dine and share stories of our great love as we sit at the banquet table."
Besides the title track "Come Back Soon," other standouts include "You Are Greater" (based on Colossians 1:19) and "Abide With Me/I Am Nothing," adapted from the classic Henry Lyte hymn "Abide With Me." But my favorite is "Tether My Soul," a catchy, mid-tempo praise song that asks Christ to keep us close to him:
I'm only free
When I'm bound to You
So tether my soul
Tether my soul
Now, about that giveaway — just send a Tweet with this copy by the end of today, May 20, PST:
I'm tweeting to win a copy of #ComeBackSoon, the new worship album by @taraleighcobble
We'll draw winners using the Random Number Generator at random.org.