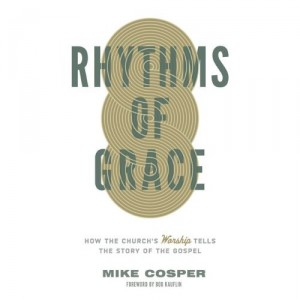 In 2003 I became acquainted with the guitar skills of Mike Cosper, who regularly stood in with the praise band of the church I was attending. One day, a member of that church said, "The young guy on lead guitar is actually the worship pastor of another church in Louisville. They only meet on Sunday evenings, so he plays with us in the morning service."
Little did I know that in a year I'd be a member of that church, Sojourn (and little did we know then that in a few years, Sojourn would not only start meeting on Sunday mornings, but would meet 11 times per weekend, across four campuses). Little did I know that Mike Cosper's worship ministry would become known around the world, especially through the songs and records under the Sojourn Music banner. Finally, little did I know that I would be a part of that, as a songwriter and communications director, or that my future wife would be a part of that as a worship leader and writer.
Earlier this year Crossway Books published Pastor Mike's first book Faithmapping, co-authored with Sojourn founder/Lead Pastor Daniel Montgomery. And now Crossway has published Mike's first solo outing, Rhythms of Grace: How The Church's Worship Tells The Story Of The Gospel.
Would you accuse me of favoritism if I told you this is a 5-star book on worship theology and practice, and that I recommend all worshipers, worship leaders, ministers of music and pastors buy it? Hopefully not, because you should buy this book. No, really.
In Rhythms of Grace, Mike guides us through a biblical history and theology of worship, from the Garden of Eden to the wilderness, the period of temple worship, and the coming of Jesus.
Then he unveils his "Worship One, Two Three" paradigm, showing that worship has:
One Object and Author: God

Two Contexts: The Church Scattered and the Church Gathered

Three Audiences: God, The Church (each other), and the World
When we understand this, a lot of the practical and theological questions disappear. We stop arguing whether to sing songs to God or to sing them about God (the answer is "both"). We stop arguing whether worship service planning should focus on our church family or the "seeker's" in our community (both).
Perhaps the most contentious part of Rhythms of Grace will be Mike's critique of the Temple Model of worship service planning (often called the Wimber Model, after John Wimber, one of the founders of the Vineyard movement). I won't go into the argument here, but urge you — no matter where you stand in this debate now — to read Mike's critique with an open mind.
You'll also find a full description of "liturgy" that will take the mystery out of that term and teach you how to craft services that repeatedly "tell the old, old story of Jesus and His love" (to borrow a phrase from the hymn "I Love To Tell The Story"). He ends with a chapter devoted specifically to singing, and a chapter on "The Pastoral Worship Leader."
The Appendix includes several sample "Orders of Service" from different churches, a list of Recommended Resources (books, websites and more), and a short, practical section on technical challenges for church audio and congregational singing — advice about sound equipment, instruments, audio engineering, room setup and more.
I've learned a lot from Mike over the years. And many of his mentors have become people that I've also learned from, following introductions by Mike, such as Bob Kauflin, Kevin Twit, Harold Best and the late Chip Stam. Now with this book, you can quickly and repeatedly benefit from the wisdom and experiences Mike has gained. His writing style is engaging, and he simplifies complex subjects without reducing them to simplistic formulas or platitudes.
Between today (March 25, 2013) and Thursday night (March 28), Crossway Books is running a Twitter contest to give away 15 free copies of Rhythms of Grace. Your first step is to read the excerpt provided by Crossway at this link, or below:

Step #2: On Twitter, share a quote or idea that impacted you from the excerpt, along with the #RhythmsOfGrace hashtag. We'll choose 15 winners at random, using the random number generator at Random.org . Remember, you must use the #RhythmsOfGrace hashtag, so we'll know you've registered. We'll announce winners this Friday, March 29.
If you've already gotten a copy, I'd love to know what you think. What are your takeaways from Rhythms Of Grace?