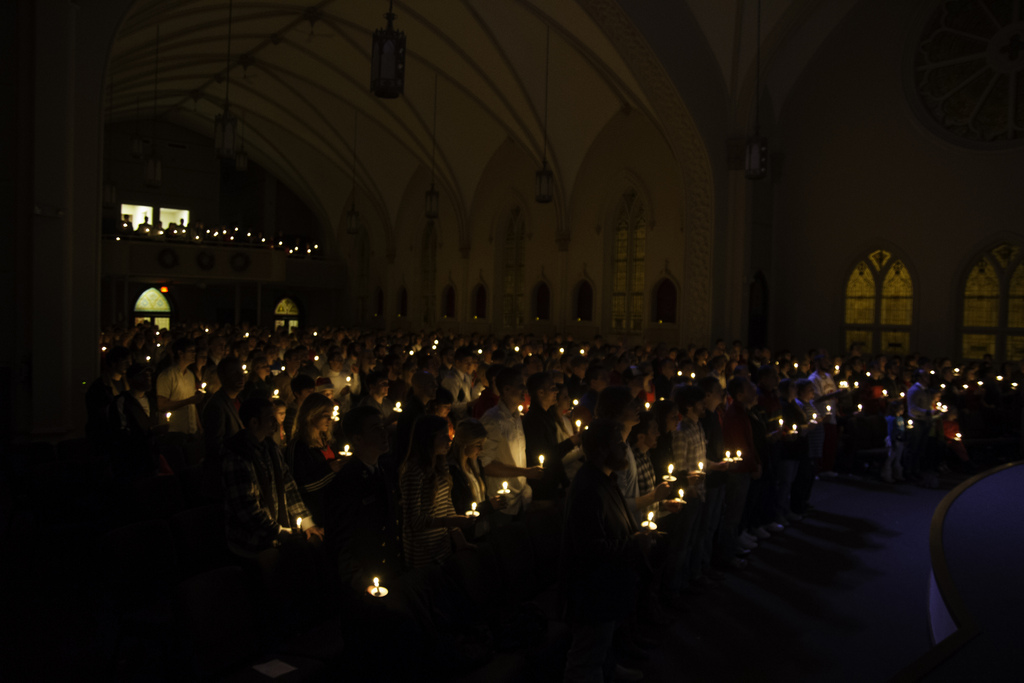 When I grow impatient with difficult people and circumstances, or weary of waiting for God to fulfill His Word in my life, I subconsciously begin to withhold worship from the Lord. As adopted children of God, we are called to a life of worship while waiting patiently for Him to fulfill His Word in us and our broken world. Our confidence stems from God's faithfulness on display throughout all of history. He has never failed to keep His Word, and it is impossible for God to lie. Therefore, you and I can wait patiently and confidently for Him to fulfill His Word in our lives.
Our patience propels us to come before God in worship. Waiting for God's kingdom to come and His will to be done on earth as it is in heaven does not mean sitting idly by with disengaged hearts.  As the Psalms remind us, we wait in hope for the Lord who is our Help and our Shield.  We praise Him as we wait because He is this Help and  Shield. He is also our Strength and our Salvation. He is our Song in the Night, to be sung full-throttle as we wait for Him to make everything new.
As we worship the Lord while we wait patiently upon Him, it's helpful for us to understand that our worship is fueled in part by the hope we have received from the Lord.  To be patient is to be hopeful, and to be hopeful is to anchor our souls to God's living Word. Patience is waiting with confidence that what we're looking forward to will come to pass. I'll say it again: we can wait patiently and confidently as sojourners here, full of hope, because God has given us His very great and precious promises, and it is impossible for God to lie.
"For example, there was God's promise to Abraham. Since there was no one greater to swear by, God took an oath in His own name, saying, "I will certainly bless you, and I will multiply your descendants beyond number." Then Abraham waited patiently, and he received what God had promised.

Now when people take an oath, they call on someone greater than themselves to hold them to it. And without any question that oath is binding. God also bound Himself with an oath, so that those who received the promise could be perfectly sure that He would never change His mind. So God has given both His promise and His oath. These two things are unchangeable because it is impossible for God to lie. Therefore, we who have fled to Him for refuge can have great confidence as we hold to the hope that lies before us. This hope is a strong and trustworthy anchor for our souls. It leads us through the curtain into God's inner sanctuary. Jesus has already gone in there for us. He has become our eternal High Priest in the order of Melchizedek." – Hebrews 6:13-20 (NLT).
God has told us that we who have fled to Him for refuge can have GREAT confidence as we hold to the hope that lies before us. This hope leads us through the curtain that once separated us from coming directly to God in worship. We can now stand before the Living God because of what Christ has done to cleanse us from our sins, to present us blameless before our Holy God. Christ has gone before us and continually pleads our case to the Father on the merits of His own blood and sacrifice, so that we might continually come boldly before God's throne of grace to receive merciful help.
Let us continually, confidently and patiently wait upon and look to our great God who cannot lie. Let us cling to His Word which never fails as we, with hopeful hearts, persevere in courageous worship of the God of our salvation, who has promised to return and reconcile all things to Himself.
Wait patiently for the Lord. Be brave and courageous. Yes, wait patiently for the Lord. (Psalm 27:14)

We wait in hope for the Lord; He is our help and our shield. In Him our hearts rejoice, for we trust in His holy name. (Psalm 33:20-21)

Count it all joy, brothers, when you encounter various trials, knowing that the testing of your faith produces patience. And let patience have its perfect work that you'll be perfect and complete, lacking nothing. (James 1:2-4)

"Together with Christ we are heirs of God's glory. But if we are to share His glory, we must also share His suffering. Yet what we suffer now is nothing compared to the glory He will reveal to us later. For all creation is waiting eagerly for that future day when God will reveal who His children really are. Against its will, all creation was subjected to God's curse. But with eager hope, the creation looks forward to the day when it will join God's children in glorious freedom from death and decay. For we know that all creation has been groaning as in the pains of childbirth right up to the present time. And even we Christians, although we have the Holy Spirit within us as a foretaste of future glory, we also groan to be released from sin and suffering. We, too, wait with eager hope for that day when God will give us our full rights as His children, including the new bodies He has promised us. We were given this hope when we were saved. (If we already have something, we don't need to hope for it. But if we look forward to something we don't yet have, we must wait patiently and confidently." (Romans 8:17-25)
Photo above courtesy Sojourn Church deacon of photography Chuck Heeke, from Sojourn Midtown Christmas Eve 2012 service.