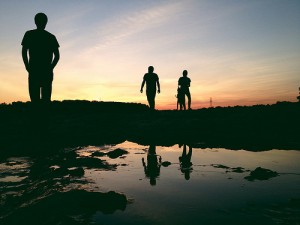 One argument against using old hymns in modern worship is that they focus on objective truth to the exclusion of subjective response. That is, they are all head and no heart, offering the worshiper dry doctrinal statements but providing no expression of emotion.
Kevin Twit has heard this argument. Twit is a pastor in Reformed University Fellowship (RUF), the college campus ministry of the Presbyterian Churches in America. He is also the founder of Indelible Grace, a movement to bring forgotten hymns into the church. Twit and Indelible Grace artists like Sandra McCracken, Matthew Perryman Jones and Matthew Smith have written new music and arrangements for hundreds of hymns, creating a series of worship records and an RUF Hymnbook.
When I asked him (in a recent My Song In The Night interview) if our hymn writing forebears went too far in writing theologically deep but emotionless lyrics, he said,
"It depends on the hymns. There are hymns (and psalms) that directly address God, and also ones that are more of an exhortation to other believers. I believe the best hymns have a good marriage between objective truth and subjective response.

"When I Survey The Wondrous Cross" by Isaac Watts is a great example. In the first half of every stanza you get doctrinal truth, but in the 2nd half of the stanza you get the subjective response. But in the last verse all four lines are response."

"My concern with some praise choruses is they are almost completely response without any preaching of the gospel to our hearts. But I also believe even these songs can be used judiciously in a service as long as there are songs giving us solid meat to chew on as well."
Worship service planners and songwriters don't have to choose between old texts and new material, nor between songs that declare the truths of God's Word and songs that give voice to our response. Mars Hill Worship Pastor Joe Day told me,
"I do try to write from what moves me because I think if I can't sing it in such a way that I'm not moved, then I'm not sure anybody else will follow me when I lead. Our hearts have to pour out to God in our songs for them to be convincing."
Do the songs you are writing and the songs you're leading balance the revelation of God's truth with your heartfelt response? It's not either/or; it's both/and.