Not long ago Mark Snyder and I became acquainted (through the internet, as so often is the case these days). Mark has a lot of experience writing songs for worship in various churches, and he's put that experience to use by forming Tree Hill Collective, in collaboration with other worship leaders, songwriters and musicians. They've just release a new EP called One Redemption. You can hear all five songs in full at treehillcollective.com, and you can purchase One Redemption on iTunes or Amazon.
Join me for this latest discussion in our My Song In The Night interview series:
Bobby Gilles: What is Tree Hill Collective? What differentiates this from either a typical record label or a singular church's music ministry?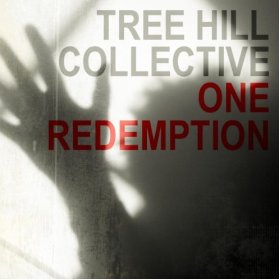 Mark Snyder: Originally called 'Weekend Warrior Worship', Tree Hill Collective is a loosely organized group of songwriters, music producers, performing artists, and a supporting volunteer community that exists to resource the church with God-honoring worship resources in innovative ways with excellence. It was birthed from the concept that each aspect of our product should reflect creative excellence – the songs, the productions, the resources, and live performance.
We are indie in nature and empower songwriters to maintain rights in their works, and we try to keep financial considerations and undue motivations out of the way of our ministry. Being essentially collaborative across church lines, we are able to draw alongside different ministries to resource them as we are led.
Bobby Gilles: How have you prepared yourself to write worship songs for the church?
Mark Snyder: As a kids worship leader I began writing songs years ago for the children's ministry at Calvary Chapels, a charge I took very seriously, and I learned to make clear messages in simple words. and memorable melodies.  Calvary Chapel churches (as well as my current church home Palmcroft Baptist) stress verse-by-verse bible teaching, and I have adopted the habit of reading through the bible once every 18 months or so.  Chronological bibles, archaeological bibles, bibles with commentaries, etc.
When you do that enough (I am on maybe the 10th repetition) you tend to imbibe the doctrines and message from all parts of Scripture.  I couple this with a study of songwriting and worship from folks like Bob Kauflin, Sovereign Grace, Paul Baloche's 'God Songs,' Gary Ewers, blogs, and many other sources, to craft an approach that works and delivers what I feel are worthy songs I would put forth for the church to sing.
Bobby Gilles: Tell me about your partnership with Jeff McCullough, and about his work on the indie music scene in Southern California.
Mark Snyder: Jeff became Tree Hill Collective's main producer after we were connected by Holland Davis (writer of Let It Rise) through a song-sharing site.  Hearing excellence in the songs (though not the production!) Holland encouraged me  to work with others to give the songs their best voice.   Jeff and Holland had worked for years providing worship resources at Maranatha! Music.  Jeff's interest in Tree Hill Collective stems from his deep faith, and the unique focus on great songs coming from a rich pipeline and drawing from multiple songwriter's catalogs, as we have expanded our songwriter pool.
Jeff has a top-notch multi-pod recording studio in Escondido, California, and regularly works with independent Christian artists (as well as secular artists), including some who regularly chart in their genre.  Jeff is a voting member of the Grammy award committee and has significant industry credits.  The San Diego indie Christian artist scene has spawned such cutting edge bands as Future of Forestry, and Moi, and some of these folks have worked on Tree Hill Collective projects, as well as aspiring new artists.  All of us work from a heart to resource the church.
Bobby Gilles: Not only was Tree Hill Collective birthed in a spirit of collaboration, but you've already partnered with All About Worship and the Scripture To Music Collective.  Many people view artists and musicians as loners, but it seems like collaboration is a core value of Tree Hill Collective. Why is that? And how do you encourage collaboration?
Mark Snyder: Most of the Tree Hill Collective collaborators have not met in person.  The value in collaboration to our project is huge – we get great songs, great musicians, and people that are drawn to work as part of a larger team to make something amazing happen.  Since our original concept required collaboration to succeed, this core value was birthed at the start, and we have embraced it in many ways as we add songwriters, artists, and other volunteers, and find ministries such as those you mentioned and others to draw alongside.
We have had volunteers do things like album art, song translations to Mandarin and Spanish, vocal performances, and even songwriting.  People want to be involved in something excellent, something bigger than themselves.  We try to put our mission and ministry above egos and individual agendas, and this value shows through as we grow.
Bobby Gilles: Tree Hill Collective has just released an EP, One Redemption. You've got an adaptation of Wesley's classic "O For A Thousand Tongues" as well as four new songs for the church. Stylistically it's very modern, yet the songs range from guitar-driven rockers to softer, keyboard-driven arrangements. How much does the singer of each song determine the arrangement?
Mark Snyder: The arrangements of our songs come from several factors. Since our mission is to resource the church, we choose instrumentation and arrangements that do not get in the way of this, and that worship bands can easily pick up. Sometimes a production arrangement will suit a particular vocal style – we have one vocalist best described as "Miranda Lambert meets Taylor Swift," so we give her arrangements a modern country vibe.
Sometimes an arrangement will be what the songwriter laid down, or a reference the songwriter or producer hears for what a song should be, such as the "Maroon 5" inspired arrangement for "He Has Engraved You." We definitely draw on the best from many eras of rock/pop/country music in designing the productions, and we are especially interested in what makes a great song tick and stick. When we discover those songs we learn from them and allow them to influence the creative vision we want to bring to the church for a project or song. This is how we become ready for production. A song may sit in the pipeline for a while while we allow this creative process to work.
Bobby Gilles: One of the cuts on One Redemption is a great Easter song, "Death Could Not Hold You." This is one you wrote with Jeff McCullough. What did that collaboration look like? Did one of you write the music and the other the lyrics?
Mark Snyder: I wrote this song many years ago for children's worship.  For songs I co-write with Jeff I typically write the lyrics, and compose most of the original melody ideas.  Many times Jeff will completely rearrange the song or add melody parts, which is why we share writing credits.  Its really based on what we hear in the song, and this collaboration works very well.
In one case a song was rewritten, over the phone, as the singer was waiting in the studio to record.  We trade ideas using my basic DAW setup when I need to record.  At times Jeff may record a track and send it back for me to write a new melody part or new lyrics.  Sometimes he will say 'I need another verse" and we will do it.
In 'Death Could Not Hold You' , we added the verse
But morning came, the stone was rolled away
A Holy God will never see decay'
after Jeff observed that our original song left Jesus in the grave, so to speak,   To all songwriters I stress – let your producer speak into a song – he or she is a professional.  We want professional results so we let professionals assert their strong influence.
Bobby Gilles: I like the repetition of the line "Death could not hold you Lord" in the second and fourth lines of each verse, and final line of the chorus. Even with the repetition of this hook, you've still got a lot of "gospel meat" in this song.  Do you think intentionally about how to use catchy hooks, repetition and other simple devices while at the same time creating a hymn-like weight in your songs?
Mark Snyder: Absolutely.  We try to be students of great songs from many eras.  Repetition is not only a device of great songs, but it can give a worship song a familiar liturgical feel, almost like a responsive reading.  We are also big fans of strong rhyme schemes, syllable counting, etc – things that make a song memorable and sticky, and serve to implant its lyrical payload in the brain, if you will.
We stress great melodies and hooks also, for this same purpose.   Similarly, we design instrumental parts, guitar riffs, etc, to complement the song and make it more singable, without drawing too much attention to the instruments themselves.  Great songs do this.  We try to add enough lyrical weight to the songs that they will be considered for use across 'worship war' lines, while at the same time making them accessible to youth. We have fans from 15 to 85, so we are succeeding at some level!
Bobby Gilles: You've written before about how crucial it is to write strong lyrics in our worship songs. Tell me about the "God Quotient," your system for evaluating worship lyrics?
Mark Snyder: God Quotient is a simple term I coined to be able to look at a song and see where it is really focused. A high GQ means a song points us outward, toward God. This is a way to stress who God is rather than who we are (as our Facebook fueled culture is very adept at stressing).
While creative art is not a process, we can adopt some processes to understand what art is saying and how people might respond to it. To measure GQ, we can look at a song's 'creative energy' to see where that points. Using scales like 'feeling versus fealty' or 'problem versus provision' we try to measure what a song is saying, and try to achieve at least balance if not high GQ in every song. In doing so we hope to deliver resources to the church that will not divide people and will result in all generations glorifying God together. The full blog for this concept is found here.
Bobby Gilles: Following One Redemption, you plan to release two other EPs in 2012: One Purpose and One Faith.  What is the purpose of this cycle? Is there a reason one follows the other? Why not wait and release one LP?
Mark Snyder: Great question, and there are multiple reasons for our approach. Most of the material for all three EPs is already finished. On the creative level, we looked at our songs and realized that they fell thematically into 'what Christ did', 'what we are to be doing', and 'what we hope for and what we are certain of''. We also had a key lyric in our call to worship 'I Stand' that went "I stand as one with His redeemed, one in purpose, one in faith", so this seemed natural for the EP titles.
So, the singular finished work of redemption is the focus of One Redemption, while the worshiping and serving church is the theme for One Purpose, and our faith for the present and the future is the topic for the One Faith EP. Our timing, also, coincides with Lent and Easter for the first EP. We were blessed to have indie artist Matt Billingsley do graphic design for our covers to knit the series together.
We try to offer only strong songs in our discography, so releasing smaller quantities of high quality songs over time seemed to make sense. This also gives the performing band a focus it can stress as it works in venues over a period of time. A few bands such as 'Future of Forestry' with their Traveller series have shown that EPs released in a series like this can work.
Bobby Gilles: What has been your biggest joy and your biggest challenge in launching Tree Hill Collective?
Mark Snyder: Our biggest joy has been in watching as God opens doors in the provision of people, resources, and platforms for what we are doing. We realize that, for a project that is barely a year old, our platform is something we never should have expected in this time frame. Our motto is to watch for the doors opening, but not to be pushy, for God's timing is the timing we want to be in sync with, not our own. We also at times have found ministries that have adopted our music through online searches. This is always gratifying.
Our greatest challenge is in figuring out ways to get onto worship set-lists. Since we are not a church band (though we do serve our local churches), we don't have a 'captive set list' we can feed with our songs, even if that were to be something we were led to do. And finding a place in other churches set lists is very difficult, due to the way that worship music proliferates from so many sources, both from labels and great indies.
Creatively we believe in the strong, biblically focused worship that also happens to be great songs and productions that we deliver, but getting worship leaders to take a look and use the songs without being too pushy or self-promoting is a real challenge. This is one reason we are so appreciate of platforms such as yours to share our heart and our mission.
Bobby Gilles: What are your long-term goals for Tree Hill Collective?
Mark Snyder: I would like Tree Hill Collective to become a known and trusted resource for top quality, biblically strong worship music resources that come directly from songwriters to the church and church ministries. I would like to see Tree Hill Collective draw alongside ministries and churches of all kinds, as we and our resources are found fit for service in the church. I would like for us to be considered a pilot project of sorts, showing how collaborators can band together to provide these kinds of resources through modern technology, church-centered ministry focus, and a focus on excellence. We would like to lead by example in showing that songwriters, musicians, and other volunteers can provide what the "music industry" does in the collaborative and unselfish spirit we value and demonstrate.