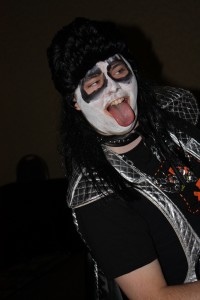 No.
I recently posted a short list of five common worship leading mistakes that can harm your congregation. One of the mistakes is in drawing attention to yourself by dressing inappropriately.
When I'm preparing to lead worship, I feel tempted to dress in a way that's most comfortable and pleasing to me (makes me feel and look good). However, I need to remember even in this aspect of preparation that this (leading worship) is not about me.
My aim should be to reflect and point to Christ, even in the way I dress when I lead worship. So, it's imperative that I prayerfully consider what God wants as I look in the mirror before I leave my house. I appreciate the Holy Spirit's conviction and help in this area of leadership too.
Appropriate apparel for worship leaders is something that my worship pastor, Mike Cosper recently addressed with our Sojourn Music squad.  Here are some of Sojourn's guidelines, which might be helpful in your team's context, as well:
Worship leaders should dress in such a way that:
• Communicates to the church, "We're glad you're here."
• Honors men and women
• Doesn't distract from the message of the songs and texts.
• Because many Sojourn worship leaders are young, we need to take every advantage we can to communicate credibility and maturity. The younger you are, the more you should seek to look mature and prepared.
• Don't wear anything with printed texts or graphics.
• Avoid "loud" prints and reflective, distracting outfits.
• "Ironic" hipster wear is discouraged (like your vintage shiny gold track suit or matching head and sweat bands).
• No hats on stage – this is considered a disrespect issue with our parents' generation, and we want to err on the side of honor.
• Don't wear clothes that are tight and form-fitting.
• Don't wear shorts (Men or women)
• Skirts or dresses should come below the knee
• Tights (on women) should only be worn with skirts or dresses that go below the knee, not as pants.
• Shirts shouldn't be low-cut for women (no cleavage), and men's shirts shouldn't be low cut or unbuttoned too low (no chest hair).
• Err on the side of wearing dark clothes.
"PHP Rock Stars" photo, top, by Rick Bowen. Used via Creative Commons license