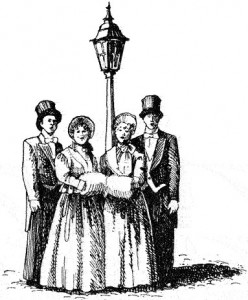 Recently at My Song In The Night I shared with you about my time singing with the folks at the Beehive, a local assisted living home where my Sojourn friends frequently visit to share hugs, smiles and songs with the residents. Tonight we'll be visiting again and sharing Christmas carols and Advent songs together. I've prepared a simple, two page document that includes the lyrics of the following familiar Christmas hymns in simplified, sometimes shortened formats using the most common verses sung:
Angels We Have Heard On High
Oh Come All Ye Faithful
Silent Night
Hark the Herald Angels Sing
Joy To the World
Away In A Manger
God Rest Ye Merry Gentlemen
O Holy Night
O Come, O Come Emmanuel
What Child Is This?
Go Tell It On The Mountain
Feel free to use this list and the attached document for your own Christmas Hymn-Sings at home, church, Christmas parties, caroling around your neighborhood, or visiting others in assisted living homes like the Beehive. You can easily lead a group singing a capella or with simple acoustic guitar or piano/keyboard arrangements.
Happy Christmas Hymn-Singing!!!