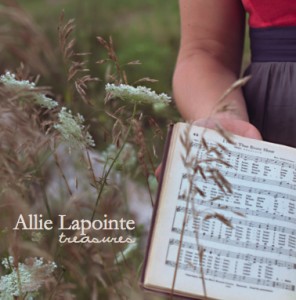 A short time ago Pastor Josh Dix of The Journey church in St. Louis introduced me to the work of singer-songwriter Allie Lapointe. Allie served as one of the first worship leaders in the early years of The Journey. Josh pointed me to the website of Allie and her husband Nick Lapointe, who is also a singer-songwriter musician. He also introduced me to Allie's new album of original worship songs and modern hymns (hear all the songs and read the lyrics here). And find Treasures by Allie Lapointe on iTunes here.
And now, I'm glad to introduce it to you and to give you the chance to win this new CD in our latest My Song In The Night Twitter contest (see details at the end of this post — the contest details are quick and painless).
As Kristen and I learned more about the Lapointe's, and Allie's experience songwriting, leading worship, recording as an indie artist, bringing new life to old hymns and teaching workshops on songwriting, we knew we had to invite her to My Song In The Night, to share her music and her experience with you:
Bobby Gilles: The first song of yours I heard from your new album Treasures was "When Amidst The Storm I'm Shaken." I was immediately hit with the wealth of poetic devices, right in the first verse – the consonance of all those "W's", assonance of the long A and the tight 87.87 "Wesley" meter:
When amidst the storm I'm shaken
Wearied by the wind and waves
Lord within me faith awaken
Jesus hear me call your name
Do you have a background in poetry? Do you think much about poetic devices, either in your initial writing session for a song or in rewrites?
Allie Lapointe: For me, the genre in which I am writing helps determine the word palette I use. So, for hymns, I tend to write in the poetic voice. Finding that voice has come through years of absorbing poetry and scripture, and trying to think metrically.  It does not come naturally, but the more I write, the more quickly I find that voice.  Hymns are really fun to write because the word palette includes some beautiful words that might not be appropriate in a more conversational lyric.
Bobby Gilles: You do a lot of co-writing, both with your husband Nick and with other writers like Randall Goodgame, Andrew Osenga and David Moffitt.  When you're writing with someone are you typically the lyricist, the tunesmith or both? Is it different with each co-writer?
Allie Lapointe: I really enjoy collaboration. I would say I am first a lyricist. But before I began co-writing, I wrote by myself for several years.  If the chemistry of the co-writing room is such that we can each lean toward our strengths, we do that. But, I have been sent a lyric and then written a melody to it, and I have an ongoing collaboration with a melodist to whom I send completed lyrics.
I try to be ready for any combination –and ultimately it helps me as a cowriter to rely on God to navigate the session and be open-handed with my strengths and weaknesses.  I also try to write as many songs by myself as I do with other writers – that helps me stay practiced in both melody and lyric.
Bobby Gilles: Do you have any advice on how to collaborate with someone else on songwriting?
Allie Lapointe: Find an idea or thesis about which you are both equally passionate.  It's worth the time to consider several ideas before deciding on one to chase.  Enjoy the process, including the moments when you get stuck. Often times, throwing out three bad lines will uncover the great line.
Pray for courage! Make intentional choices that best serve the song – everything from tempo and time signature to rhyme scheme and word palette. What would best help this song communicate its message?   If my message is to proclaim Christ, how will this lyric and melody best communicate that goal?
Bobby Gilles: Another way in which you co-write is by composing new music for old hymn texts, like "Duty Into Choice" by William Cowper.  What do you look for when you're trying to find an old hymn to work on? Is it easier or more difficult to come up with music for someone else's words?
Allie Lapointe: I love the mini-meditation aspect of hymns, so I've been especially drawn to lyrics that retell the gospel.  I love being reminded, and reminding others, of the deep love of God in the face of Christ. As for writing a new tune, the structure and meter of hymns help the new melody become self-propelling once I find a fitting musical concept.  So, in that sense, it is easier to write a melody for a lyric that is already tightly metered. 
Bobby Gilles: What do you hope to accomplish with Treasures, and how is it different than your other projects and songs?
Allie Lapointe: This album was recorded on an intentionally simple canvas so that the songs could be arranged and textured for other worship or artist settings. I would love for the songs to find homes in other churches and on other records.
Ten years ago I was an indie artist in college. I laid that down for a few years and concentrated on improving my songwriting craft. In the past four years of writing for my publisher, Dave Clark, of Sunday Best Music in Nashville, much of my writing has been "on assignment" for particular choral anthems, worship anthems, and seasonal print projects.  I really enjoy writing in all of these genres. But I was thrilled when Dave gave me this special opportunity to write in my own voice and style, and to complete the circle by being the artist as well.
Bobby Gilles: The songs on Treasures make a lot of familiar images seem new, through the way words and metaphors work together, like on "Your Blood Covers All"
Like fruit on the vine
Crushed into wine
To describe Christ's sacrifice. It's a great communion song, which then extends the metaphor into the physical act of communion as well as our symbolic feasting on the Word:
I taste and I drink
You satisfy me
Do you do a lot of rewriting and pruning to tie metaphors and your theme together, or does it come naturally?
Allie Lapointe: Songwriters have the unique opportunity to say something that's been said before, but in a new creative light or lens. For me, pruning is definitely part of the process.  I challenge myself to make sure every line points to the thesis, and that every word counts.  Verse two must say something new, and must progress from verse one.  Everything points back to the title.
I ask myself " Can I dig deeper here? Can I be more vivid?" This used to take several sessions, and sometimes still does. But I'm trying to become more efficient by starting with a clear outline, and rewriting as I go.  I try to "show" rather than "tell" what I want to say.
Bobby Gilles: You set a lot of things at juxtaposition to each other that, on the surface, would seem to be worlds apart, in songs like:
All For Your Name ("Yours is the day/ Yours is also the night" and "Yours was the grace/ Yours also the blood")
Together On The Cross ("Justice and mercy/ Sorrow and hope" and "My storm, my shelter/ My loss, my gain")
Refine Me ("There is splendor in the furnace of suffering/ and comfort in the fiery blaze")
Irony seems to be a major part of your writing.  Why is that?
Allie Lapointe: My husband, Nick, and I lived in St. Louis, MO for six years during the formative years of an Acts 29 church called The Journey. Our pastor, Darrin Patrick, preached vivid ironic metaphors of the "both-and" of the gospel – our vast depravity and God's complete provision for atonement. Our current pastor, Donovan Santamaria, at Imago Christi, paints this juxtaposition as well.
I find it in the writings of Tim Keller, John Piper, Mark Driscoll, and Ann Voskamp, all of whom have inspired my lyrics. And I see it in scripture as the Word became flesh in Christ.  So I guess my creative well is full of contrasts, so that's what comes out in my writing. Contemplating the entire spectrum of two opposing concepts is mentally stimulating (it blows my mind!) and makes me want to worship Jesus.
Bobby Gilles: You recently taught a workshop on "The Hymn Writer in the 21st Century" and sat on panels about "Networking" and "Surviving The Critiquing Process" at the Write About Jesus conference in St. Louis.  What are some of the main points of wisdom, experience and encouragement you try to impart to beginning writers, or writers who feel like they're struggling to develop their craft or be heard?
Allie Lapointe: Don't wait for inspiration to fall. Discipline often produces inspiration, and quantity often begets quality. Set songwriting goals, like 1, 2, or 5 songs per month. They don't have to be perfect songs!
Regarding getting feedback: Ask pastors, worship leaders, and other songwriters to critique your song.  Sometimes you can use that feedback to rewrite the song. More often, you can take their general feedback and apply it to the next song you write.  I call that "writing forward" and it helps writers to keep moving and not get stuck on perfecting one single song.
Fill your word palette by reading great prose and poetry. Fill your theological palette by studying the Word and listening to sermons. Fill your emotional palette by living life fully, listening to people's stories, and fully engaging in your own. Fill your artistic palette by engaging in culture – attend concerts, art shows, and community events. Keep your idea radar up at all times – songs are hiding in people's prayers, newspaper headlines, and bible pages. Carry a "hook book" to jot down those fleeting ideas.
Take a posture of a continual student.  Attend workshops where dozens of industry professionals are in one place. The Write About Jesus Workshop is a great way to "be heard" and receive a wealth of resources, and it's also a place to find creative community and potential cowriters.  Above all, let God lead, and follow Him with courage and with joy.
Bobby Gilles: Although you do some writing together, you and Nick have distinct singer-songwriter careers and you release albums separately. How do you work together – and apart – as husband and wife, co-writers, and as separate songwriters with distinct goals? Do you give each other a lot of input?
Allie Lapointe: We are learning the dance of two artistic souls under one roof. It can be tricky!
Nick gives me honest feedback, and he is also my greatest supporter.  We've found some outlets for our creativity to merge. Together, we lead a local Songwriting Guild to foster creative community in our city. We also lead worship together at our church, Imago Christi.
We co-write occasionally, and we treat it like most other co-writes with the appropriate boundaries (like a set time frame, good listening skills, and a safe sharing atmosphere).  Or sometimes Nick will write a lyric and I'll take it to the piano.  We have definitely had a few co-writing mishaps, but we've also had some exciting successes.  We have to rely on God to help us honor Him and each other with our creativity.
Bobby Gilles: What's next for you? What are some of your long range goals as a writer, worship leader and recording artist?

Allie Lapointe: My first ministry is to my family here in Cedar Rapids, Iowa, where I home school our children, and support my husband in his job, his music, and ministry as elder of our church. I am also currently a staff writer for Sunday Best Music out of Nashville, TN. It has been a wonderful and unique experience, as most of the assignments are done long-distance.
Of the three roles you listed, I am most passionate about writing. I would love for my songs to bless many people and bring God fame.  I desire to collaborate with other hymn-writers of our time.  I am a willing worship leader for women's events, and a reluctant touring artist.  But I want to be open-handed and I have eager support from my husband and family. I trust that God's plan for "what's next" is right and good.
And now, you can win Allie Lapointe's CD Treasures if you enter our Twitter contest by 8am Thursday morning, Dec. 1, 2011. To enter, just tweet these words:
@bobbygilles, enter me in the chance to win Treasures, the new CD of modern hymns & worship songs by Allie Lapointe.
We'll determine the winner by using the Random Number Generator at Random.org