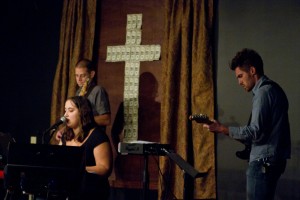 My "All I Have Is Yours" cowriter Rebecca Elliot w/ Sojourn band. "God Gave" liturgical art in background
Recently here on My Song In The Night I shared with you my church's graphic design for our God Gave sermon series about generosity and the "M Word" in the church, money.
Some churches talk about money all the time, and seem all too willing to induce guilt trips to get people to tithe and give offerings, or commit to capital campaign pledges. Other churches — perhaps even a greater number — are so hesitant to broach the subject that they almost never do so, until a budget crisis threatens to disrupt even basic ministry.
If we believe, as the Bible teaches, that all we have belongs to God and that giving is an act of worship, then we cannot ignore this subject any more than we can ignore other biblical teachings.
So how do we approach this subject in our hymns and worship songs? So few songs deal with giving that we don't have a broad selection.
Our solution at Sojourn Music was to write our own song for the offering. And so I wrote the lyrics for the modern hymn "All I Have Is Yours" (in 85.85.8885 hymn meter) and Rebecca Elliott wrote the music. She and the Sojourn band then recorded it in 2007 on our Before The Throne album. Before I talk about the way I wanted to approach this subject in the song's lyrics, listen to it here:
Free piano lead sheet for "All I Have Is Yours" here.
Free chord sheet for "All I Have Is Yours" here.
I approached the writing of "All I Have Is Yours" the same way I always approach my worship songwriting: by making sure I understand what God's Word says on this subject. My subjective experience is less important than the Word Of God.
So each of the two verses deals with a different aspect of our giving, both of which stem from God's extreme generosity toward us.
The opening four lines of verse one acknowledge that God created everything and everyone, and bestowed all the gifts and wealth of this world. Our offerings back to him are "humble" in the sense that whatever we give him is his anyway. The verse then teaches, in a series of three iambic tetrameter lines (eight syllables each) that Christ "bought my life" by paying our sin-debt on the cross. We could never amass enough wealth to buy our way into the good graces and presence of our sovereign God:
Creator, Giver of all things,
All I have is yours
Accept my humble offering,
All I Have Is Yours
When I was chained to greed and pride,
Tight-fisted, destined just to die
You paid my debt and bought my life —
All I have is Yours.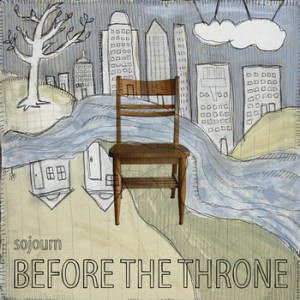 "All I Have Is Yours" is on Sojourn's "Before The Throne" album
The refrain simply repeats "All I have, all I have, all I have is yours." Repetition is a powerful songwriting tool, as I discussed in my analysis of the Charles Wesley Advent song Come Thou Long Expected Jesus. Here, I wanted to drive home the key fact "God, all I have is Yours." I wanted to put these words in the mouths of worshipers and in their hearts, to root their generosity in the truth of Scripture. Second verse:
This offering is a means of grace:
All I have is Yours
You show me this to grow my faith:
All I have is Yours
The more I give, the less I need,
I learn that You'll provide for me
Was blind to this, but now I see:
All I Have is Yours
The way in which our offerings are a "means of grace" is explained in lines 5-7: when we give generously, to the point even that it might hurt our wallet, we're forced to rely on His sufficient grace. We stop being "tight-fisted," holding onto things we think we need — perishable, often even frivolous things. We have Christ, and Christ is enough.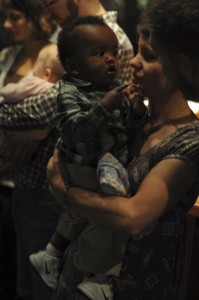 Churches also often sing "All I Have Is Yours" during Baby Dedication services
Now here's a secret for all my My Song In The Night friends: All I Have Is Yours contains a third verse. Sojourn left it out when recording Before The Throne, in the interest of time and tight-ness. But to show another aspect in which our giving is an honor, and a way in which God blesses us, here it is:
Your kingdom come, Your will be done
All I have is Yours
You'll finish all that You've begun,
All I have is Yours
That you would use the gifts I bring
In service to the coming King
Is reason now to praise and sing!
All I have is Yours
Those of you who are parents know that your young children will sometimes bring "presents" to you that you already own, or could have easily gotten for yourself. Maybe Mommy gives money to the kids so they can buy Daddy a Christmas or Father's Day present. It came from Daddy's money anyway — he could have just bought the tie himself.
Or maybe you're doing yard work, and your pre-schooler wants to "help." They feel honored to help you, and you let them. It slows you down, but you let them because its good for them.
In the same way, God does not need your money or mine. He owns everything anyway. He lets us give, and His Word encourages us to give, because its good for us. In the same way, His church and the pastors He has called should encourage us to give because it is good for us, not just because the church needs a new sound system.
Church leaders, it is your duty to encourage your people to give. Encourage them with the truth of God's word — that all we have belongs to Him, and that giving is a spiritual act of worship, and an act of spiritual formation that will grow and bless those who give.
We feel honored that many churches sing All I Have Is Yours as a modern hymn for the offering and for church vision/capital campaigns. We've also heard from people and churches who have used "All I Have Is Yours" as a worship song for:
Weddings
Baby Dedications
Missionary commissioning services
Children's worship
and even funerals
Father, all I have is Yours.
Top photo courtesy Chuck Heeke
Bottom photo courtesy Brad Weir