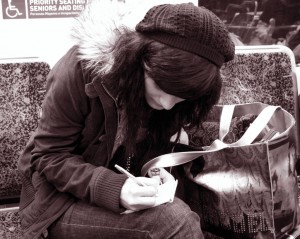 Frances Mayes writes in The Discovery Of Poetry:
If your blood is on fire with the love of language and the desire to make something with words, you probably know that. You probably know, too, that no matter how awkward your writing is right now, something in you will make you a writer …. Teaching in a large urban university, I've been surprised to find that genuine talent is not at all unusual. What is unusual is the perseverance and will it takes to become a writer.
I've lost count of the number of short stories, songs and other pieces of writing I've done which have never seen dawn's early light. Before I discovered that I preferred writing songs and nonfiction, I even kept a tally of the number of rejection notices I received for short stories versus the number of stories that literary journals accepted. I believe the finally score was:
150 rejections
4 acceptances (one of which was by a magazine that went out of business before publishing my story)
To Make It, You Must Persevere
We all know it takes talent and it takes experience. One of our major goals at My Song In The Night is to give you tools and pointers. But realize that it also takes volume — plugging away, day after day. A personal example:
Every time our church Sojourn releases a major, full-length album of original worship songs, we include 10-12 songs from a pool of at least 50 songs that writers have submitted. And these 50 are the resulting work of writers who tested, pruned and started many other songs that they knew not to submit.
Yet occasionally writers have expressed disappointment to me that their song didn't make it. "Your song?" I ask. "You turned in one?"
"Yes. My best song ever."
"Was it your first song?"
"Yes." Or sometimes "Not my first. My third."
Okay, so let's do the math. Lets just say all the Sojourn songwriters together turned in 50 songs, one of which was yours. Lets not even factor in that this was one of the first songs you've ever written, while many of the other songs came from writers who have been doing this for a decade or longer. Your chance is 1 in 50. You had a 2% chance, and it didn't pay off. Small wonder.
Let's also consider that it isn't even really a matter of choosing the 10, 11 or 12 "best" songs. Maybe your one song was good — even worthy of recording, in and of itself. Let's say your song was slow tempo, rock music, and your theme was "God's power displayed in creation," and you wrote it to be used as a Call To Worship." Okay, now lets say that, of the 50 songs turned in, 23 are worthy of recording. But:
15 of them are slow. We're probably not going to release an album of mostly slow songs.
11 of them are "God's power displayed in creation." This theme occurs so often in modern praise & worship music that it's hard to write a new one that will stand out. Meanwhile, many other themes and even major doctrines remain largely unexplored.
7 were written for the Call To Worship. Your song is good but has stiff competition. Unless the entire theme of the album is "Call To Worship songs" we probably won't record more than one or two of them.
Yet only 8 of them are rock songs. In fact, let's say that the majority of good songs turned in for this project happen to be Americana-folk-country styled songs. That style will probably influence the entire direction of the album. Your rock song just doesn't fit in. Maybe next time (compare the difference in styles between Sojourn's Over The Grave and The Water And The Blood albums).
Your good song got axed. Nothing wrong with it, but compared with all the other songs available, and with the stylistic "home" of the musicians and record producer, and with the theme the pastor wants, and with other variables, your song didn't fit.
This happened to Kristen and me recently. We wrote several songs for an upcoming Sojourn children's music album, including one we particularly loved. We got an email from one of Sojourn's worship directors, Jamie Barnes (who will produce the children's album) saying he loved it too and wanted to record it.
However, in light of several factors Sojourn Music decided to change the focus of the children's album to be psalm-inspired and focus on songs that teach and encourage expressive worship. Jamie explained this to the songwriters and issued a new call for submissions. Our song no longer fit the theme of the album, so we went back to the drawing board and wrote some more, which I also believe are strong songs. As for the one that almost made it: we still love it and may record it someday.
But we weren't going to sit around and stew about the fact that it didn't fit one particular project. I did, however, post a photo on Jamie's Facebook wall that showed him sleeping in a car while on a trip with me to the Calvin Institute for Christian Worship in Michigan, his bald head hunched over to the side. Touche.
You may not be in this position. Maybe you're a singer-songwriter who records all your own music. But you're still struggling to get the attention of fans, record labels, radio stations, publishers — anyone that your game plan is counting on. It may be that you aren't writing enough. You're recording everything that you write, and it just isn't strong enough.
Instead of writing ten songs for your next album, write 50 and whittle down to your ten best. Volume is your friend. It will give you more choices, and the sheer amount of work it requires will cause you to improve over time.
First Photo courtesy Prayitno, Flickr Creative Commons license
Second Photo courtesy JDeeringDavis, Flickr Creative Commons license