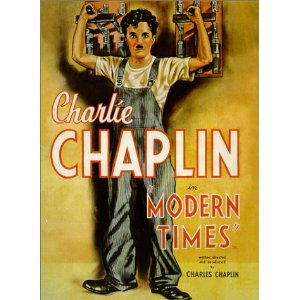 In 1936, nine years after the advent of "talkies," Charlie Chaplin released a mostly-silent film. Wrote it, produced it, starred in it. The film marked his defiance against synchronized sound movies even as its subject matter depicted, in often hilarious terms, one man's struggle against apathy, ignorance and betrayal, while hoping for a love that will endure.
In 2006, Bob Dylan released a mostly old-school record. Wrote it, produced it, sang on it. The record marked his defiance against modern music industry practices even as its subject matter depicted, in often hilarious terms, one man's struggle against apathy, ignorance and betrayal, while hoping for a love that will endure.
Both titled their projects "Modern Times."
Dylan's Modern Times, inspired by his hero Chaplin's film, continued his late-career renaissance by creating a mesmerizing universe of thunder on the mountain, fire on the moon, alley brawls, Alicia Keys, pistol poppin', downed power lines, St. Herman's Church, a thousand cows, pork chops, pie, wicked schemes, a twister, ladies in Washington scrambling to get out of town, a hammer and a pitchfork … a universe where a man vows to "walk the hard road down," recruit an army of orphans, go "up north" to plant and harvest, all the while dreaming, "Some sweet day I'll stand beside my King." And that was just in the first song.
Dylan told Kurt Loder in 1984:
"… when you go to see a folk singer now, you hear somebody singin' his own songs … I never would have written a song if I didn't play all them old songs first…. There's no dedication to folk music now, no appreciation of the art form."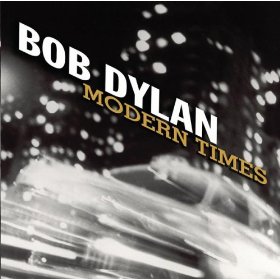 Modern Times put into practice what Dylan preached, delivering something old, something new, something borrowed, and lots of blues … along with swingtime jazz, rockabilly, country folk and dance hall ballads.
He performed an ambitious remake of Muddy Waters' 1950 hit "Rollin' and Tumblin'," with new lyrics that left the former looking threadbare in wordplay, story development, metaphor, consonance and other poetic devices.
He took the title, partial melody and first line of the chorus from the 19th century ballad "Netty Moore" and fleshed out a non-linear tale of longing.
He threw in songs that borrowed, paid homage, or sequelled Slim Harpo, Chuck Berry, Memphis Minnie, Merle Haggard, Nina Simone and others.
Apocalyptic images and scriptural allusions were, as usual, more abundant with Dylan than with any text-based artist since Flannery O'Connor. In "Spirit On The Water," watching his lady-love is like witnessing the Creation:
"Spirit on the water / darkness on the face of the deep / I keep thinking about you baby / I can't hardly sleep."
In other songs he portrayed Fallen Man cast out of Paradise, Moses coming down the mountain, Ezekiel witnessing the shiny wheels in heaven and Solomon living through Ecclesiastes. In "Ain't Talkin'," a Cain-like figure hopes to stumble across his enemies while they sleep, as David found Saul. Unlike David, this narrator will "slaughter them where they lie."
Recorded with Dylan's touring band and self-produced so that it "wouldn't sound overproduced," Modern Times played like a "whoppin' good time" from yesteryear, with expert but loose-playing musicians and Dylan's gravel voice, imbued with the authority and limitations of age.
WRITING EXERCISE:
Borrow a line from one of your favorite public domain hymns or folk ballads (stick to public domain songs to avoid running into copyright law trouble. If you don't know what public domain means, click here). Write a new song that utilizes this line (this is what we did with "My Song In The Night," borrowing the first and third lines from an anonymously written 19th century American gospel hymn.
Write a new melody for a favorite hymn or folk tune. Many worship communities are doing that with public domain hymns these days. Read our Modern Hymns page for more info and links to great "old-new again" hymn practitioners.