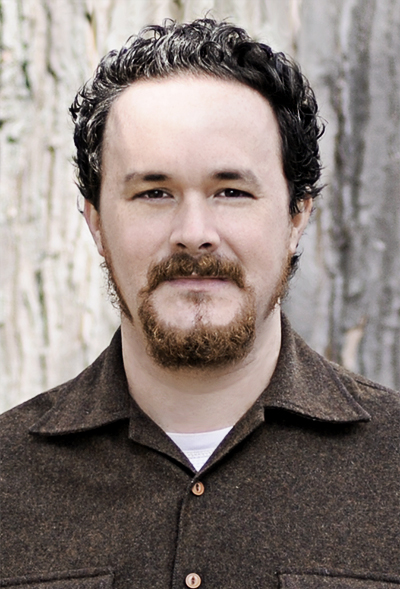 David LaChance (pictured) is the founder of Musaic Worship and staff Worship Leader at Christ Memorial Church in Vermont. He's also a big part of The Gospel Coalition's Songs for the Book of Luke worship record: songwriter, musician, vocalist and arranger. Get the inside story on the creation of Songs for the Book of Luke, and learn about the goal of Musaic Worship in my interview with David (full version below — an excerpt appears at TheGospelCoalition.org, entitled Go Behind The Scenes Of Songs for the Book of Luke):
Bobby Gilles: You wore several "hats" in The Gospel Coalition's Songs for the Book of Luke project. One of them is "songwriter," which we'll talk about in a little bit. But first, tell me about some of your other roles, and how you came to be involved in this project?
David LaChance: I met Mike Cosper, who produced this project, in 2008. We interacted over the years and in 2011 I came to Louisville for a yearlong project, and attended Sojourn Church. This was around the time that Sojourn's newest campus (J-Town) was beginning to hold services, and I informed Mike that I was available to lead worship and work with the worship teams while the campus became rooted. Throughout this time Mike invited me to be one of the musicians on Sojourn's The Water and the Blood album, for which I did a little arranging and co-wrote the title track with Neil DeGraide. The album was a very positive experience that paved the way for my involvement in the Songs for the Book of Luke project.
For the Luke project, Mike invited me to again contribute as one of the musicians but also to arrange most of the selected songs. I played the piano on the album and sang lead on one track. I arranged a majority of the songs, including the choir arrangements. (We had a recording session with a select choir from Southern Baptist Theological Seminary, and that was a project highlight for me.) The arrangements were designed to be structural placeholders that would allow the musicians to improvise efficiently and give them a "finished" starting point. Some of the arrangements remained intact while other arrangements took on a whole new personality as the musicians began to improvise and infuse their own style.
Bobby Gilles: A lot of people may be unaware of the journey a song can take from "rough demo" to "finished project." Can you describe that journey a bit, using the example of some of these Luke songs?
David LaChance: There are preliminary questions that I am asking as I begin an arrangement. First and foremost, I want to know what the Producer's vision is for the album and then for the individual song(s). Other questions are: Who is the demographic? What is the instrumentation I have available? Who is singing the song, as this determines not only the key but also what instrumentation best serves the vocal tone?
Even though problems with the arrangements are often fixed in the mix, I'm trying to achieve proper balances and dynamics in the arrangement as this gives the most natural sound. I connect emotionally with an arrangement that would work in the context of a live performance and so I'm assuming others do as well. This is how we're wired.
When these questions are answered then it's time to face the infamous blank canvas. Musically and lyrically, the song is already leading you to a specific end and it's often a matter of simply letting it lead you, while at the same time resisting and going your own way. For instance, you can choose to be impressionistic when painting a landscape, but in the end it still should look like a painting of a landscape. I want to be original, but I want to serve the song and I don't want to alienate a critical mass — especially if the music is intended for a broad demographic, which is essentially the demographic of all worship music. This is a challenging balance to maintain and it's not always possible.
This project was especially challenging, as it required many different genres to retain their individual identity and yet remain a cohesive unit. Mike and I missed the mark a few times starting out but eventually found the right balance. When we accepted that we were not going to realize every idea we were hearing then we got into a nice rhythm, but this is the very point of the project. We did not set out to make a worship compilation but to work as a worship coalition. The contributors are separate in culture and preference but the end result is unified in its essence. So, it has to be accepted on this basis without any preconceived preferential hopes or expectations about what the music should sound like. Again, it's not a compilation album.
This challenge was made easier by my background in film scoring. I am comfortable as a musical chameleon. If the song needs to be framed in bluegrass, traditional or go the route of CCM I find it fairly easy to serve the song, and this is essential in order to avoid what I call the "ouroboros effect" (discovering that you've "painted yourself into the landscape"). Your own musical personality will, necessarily, be "seen in the strokes", but a project that is not your own requires that you be intentional to avoid making yourself central.
When you make your final arranging decisions and begin "putting paint on the canvas" it's just a matter of filtering your ideas through the overall vision, using musical and compositional rules as boundaries and working within these creatively. Einstein's rule helps at this stage: "Everything must be made as simple as possible but no simpler."
As far as arranging with other musicians, when you have the right "heads" two or more are always better than one. The musicians on Songs for the Book of Luke are top notch. It is amazing to watch your "finished" ideas metamorphosize into their second and third forms as different artists interpret your work. The artistic process is fluid. The "finished" product is merely a single frame that is framed and sold as the work itself, and from here many churches will take these songs and continue the artistic process to fit their own context. My hope is that in processing the album Christians don't get bogged down in stylistic preferences and miss the forest for the trees.
Bobby Gilles: Tell me about the recording process for this record. What was it like to work with a variety of worship leaders and pastors from around the country? Did they all come to Louisville to record live, as you did?
David LaChance: The recording process happened in two phases. In the first phase all of the musicians traveled to a studio in El Paso and spent a week working off of my arrangments, coming up with variations, deciding to keep the original in some cases and in other cases coming up with entirely new arrangments. In the second phase the singers and some of the musicians traveled to Louisville for a week to track the vocals.
It really is a joy to work with like-minded brothers and sisters in Christ who have the first priority of abiding in truth and then of feeding Christ's sheep. The body of Christ is a mosaic of different preferences, styles, methods and callings and yet the world knows us by our unbreakable unity despite these broad preferential differences. Because our piece of the mosaic is music, I refer to our group as a musaic.
I appreciate the variety of contexts and age groups represented in the contributors to this project. A group of elitist hipsters or the Nashville machine didn't make this project; traditional and contemporary contexts that included older and younger generations of men and women serving their local churches were all working together without an attitude that implied their way is really the right way. This is the definition of loving the brethren. This is the love the world witnesses, wonders about and knows us by.
Bobby Gilles: You wrote a song for this record called "Song of Zechariah," (sound sample here) arranged and inspired by Zechariah's song in Luke 1:67-79 (a hymn of praise commonly known as the Benedictus). What drew you to that section of Scripture?
David LaChance: Well, the passage is a well-known song … so I figured there must be an advantage to working with a proven "lyricist." Joking aside, I like the idea of connecting musically with something in our Christian history that originally contained music.
For the most part, we sing the same notes today as 1st Century Christians so I feel like in some way we are speaking the same language even though we are worlds apart. In a way, music has that power to reverse the confusion of Babel. It's just a little more edifying knowing these very words were also sung, and these are words full of prophetic, gospel truth. Also, I was surprised that I was unable to find a contemporary treatment of the Benedictus and I thought this was a good reason to choose this text.
When choosing a passage, I also keep the corporate application in mind, and in this case it was the ʻalready/not yet' tension of the Christian walk. I have attempted recently to convey this tension in my lyrical content, not from the viewpoint of the struggle with our sin (guilt-wrought groveling), which I think is often an inverse of the "me-centered" worship songs, but between the struggles with suffering that results from sin being in the world and of our certain promises of all things being made new in Christ. Because of Christ, we are able to offer praise amidst trials without any doubt that God has saved His people once and for all. Yet we are aware that we are a people who are being saved through defeat in this world, and will continue to groan along with creation for the consummation of Christ's Kingdom — even in the afterlife (Revelation 6:10).
However, we are not without a firm hope, and this is what I attempt to convey in the song. Even after Christ's declaration, "It is finished" our song remains a saving plea and a song of praise, or "Hosanna in the highest!" This is summed up and restated in the bridge of the song: "We sing a song of faith, we sing a song of hope, we sing a song of love, and for the sake of love we are saved." (John 3:16, Romans 8:38-39)
Bobby Gilles: Of course songs in the Bible don't rhyme, and they aren't structured the way we typically structure our modern, Western songs. How do you decide which (and how many) scripture phrases to quote, which to paraphrase, and how to include new words and phrases in the spirit of the passage?
David LaChance: My lyrical treatment of this passage in Luke is a paraphrase and does not include the second half of Zechariah's song explaining the role of his son John. Although I use straight Scripture whenever possible, I think there is a way to say what the text is saying in a way that fits the chosen meter of your song lyrics without having to worry about conveying every detail in the text. In "The Song of Zechariah," my verses are really a paraphrase of a paraphrase, pulling trigger words out of Zechariah's song but living at the macro level, linking his themes structurally with broad redemptive themes.
This macro level writing is most observable in the chorus where I link the content of the verses with Jesus' triumphal entry into Jerusalem (Luke 19) using the worship phrase "Hosanna in the highest!" (Mark 11).
And to avoid the situation of a congregation singing something without knowing it's meaning, the pre-chorus essentially explains the meaning of Hosanna, "This is all our song or praise; this is all our saving plea". This is a way to breathe new life into a phrase that borders on "Christianese."
Keeping the lyrics simple, accessible and loyal to the profundity of the text is the hardest part about writing good worship lyrics. I'm coming from a Christian Contemporary Music background and so I'm leaning towards a less-is-more approach in worship music, while trying to avoid pragmatism that waters down the gospel or makes the worship service all about the individual experience.
For me, worship with music is about preparing the heart and that is done through stirring the affections. The path to the heart is through the mind (God's Word), but, as a Film Scoring major, I wholeheartedly believe that there is a musical setting for each song that is the most efficient conduit for the truth being sung. A text that is inappropriately underscored musically can achieve diminishing returns; at least this has been my own experience over the last eight years as a worship leader. I have an almost paralleled priority of underscoring the text with the right music. In other words, I'm not thinking about the lyrics apart from the music.
Working within a traditional context the last few years, I have grown to truly appreciate the classic hymns, but my CCM background causes me to still shrink away from using archaic pronouns and stuffy terminology. I avoid them when possible because they can come off as "contrived" (if you're a hipster) or "out-of-touch" (if you're in the traditional vein), but complex terms can be useful vessels to carry a lot of information in a small space. So, if I need to use a term that I think would alienate a majority of the congregation (e.g., Ebenezer) I will explain the meaning of the term in the song itself when writing or within the readings between songs if singing another writer's song. It's not an either/or scenario but our aim should be alienating the least amount of people and bridging the gaps where there is potential for alienation.
Some questions I'm asking as I go through this process are: 1. Do I have the Scriptural context correct? Am I saying what the author is saying? 2. Have I watered it down for the sake of pragmatism? 3. Do the words sound natural when sung, when read? If not … keep going. 5. Am I using clichés in a clichéd way? 6. Does it initiate a response of worship from me, the writer?
Bobby Gilles: At your site MusaicWorship.com, you've posted the demo mp3 of "Song of Zechariah." Although the melody is the same, the arrangement on the Songs for the Book of Luke record goes in a different direction than some would have expected. How did you light on that arrangement?
David LaChance: My song was one of the only songs we went into the studio with that retained the original arrangement of the submitted demo. So, when we went to record the song, we essentially started out with a blank canvas. At first, we went the CCM route of the demo, but this direction wasn't ideal for all of the musicians. Dan Phelps, who played lead guitar on this album, starting playing a Motown style guitar rhythm. The band immediately went in that direction and the arrangement fell into place. The end result is a lot different from my original vision, but the song ended up adding a flare of energy and fun on the album.
Bobby Gilles: Let's talk more about your new website. What can people expect to find at MusaicWorship.com?
David LaChance: In the initial phase you will find free MP3's and chord charts of original worship music and a few related resources, some original materials and some links to other material I find interesting or helpful. I've worked on many music projects over the last few years but only one has primarily consisted of my own music, and I see things a lot differently now. I have many worship songs that have been proven in worship services but have yet to be recorded and published.
One of the central goals of Musaic is to get my own music to as many churches as can benefit from them. Each month I will be posting at least one of my songs as a quality demo. These demos will be free to download and will come with a free chord chart. At some point, I will initiate a Kickstarter campaign and will choose either an EP or full- length album format that will consist of the songs that have been introduced at Musaic. Songs will be chosen based upon the most positive response. This album will then be available for purchase at a low price. Then, God-willing, I will start the process over again and hopefully build upon the first stage of Musaic Worship and expand it's depth and breadth.
Bobby Gilles: Your bio talks about how you've been worship leader of a California Acts 29 church, you've been at Sojourn, and now you're at a Baptist Church in Vermont that uses a pipe organ and sings from hymnals. How have these experiences shaped and formed you, and how do you bring each of them into play with what you do at MusaicWorship?
David LaChance: In my early days as a worship leader, I had my own vision for how my ministry career would unfold. Thank God it did not happen my way. I took my timeline into my own hands early on, Moses "killing the Egyptian," and so God graciously "sent me into the desert" so that I could eventually be useful.
I started in a CCM worship context, with the stage, the lights, the productions and from there God lead me to a missional A29 Church in North Hollywood. This context was reacting to the context I was coming from and I learned a lot about the full spectrum of ministry forms in America, the attitudes involved and what I thought was needed to bring the pendulum back to the middle. I wanted more than the centrifugal ministry of Church Growth, but the missional vein was all about centripetal ministry at the expense of the foundation already laid. My summation was that Church Growth built a wall to the outside world (four of them) and the missional movement dismantled the walls, drew a line in the sand but seemed to be crossing the line, confusing cultural relevance with worldly like-mindedness.
From here God lead me to Sojourn, which was challenging at first. Sojourn did not fit into any mold I was comfortable with, yet through my time there I learned how to adapt, how to subordinate my preferences and in the end I came to understand, appreciate and be excited about what Sojourn was doing. Sojourn is an example of bringing the pendulum back to the middle, re-uniting modern worship culture and our Christian music heritage, including the use of creeds, hymns and liturgical forms. Sojourn isn't afraid of being associated with a Church Growth model and yet they are unapologetic about the gospel, cultural relevance and pursuing the people in their local communities.
From Sojourn, God decided that I had not been stretched enough and lead me to Christ Memorial Church, a traditional Baptist Church in Williston, VT where my job description was essentially "to make everyone uncomfortable." I came to help modernize their worship music program within a context of Baptist tradition that uses a pipe organ and hymnals and performs Handel's Messiah at Christmas.
I was not brought to VT to fundamentally change anything, not to achieve my own worship vision, but to be faithful with another's work and adapt to their culture while providing an opportunity for them to lay down preferences for the good of the community. I did not grow up singing hymns. Using a pipe organ without an aim at hipster irony seemed archaic at first. However, this was yet another way God was teaching me to adapt. I have come to appreciate the traditional vein of Christian worship music and, ironically, I now see tradition as a necessary tool for cultural relevance.
It's all of these very different ministry experiences that have shaped the ideas behind Musaic Worship. I have seen the different colors of the spectrum up close but still see too much contextual separation. When all of the colors of the visible light spectrum are combined they create white. True unity in our diversity is the blazing white light of the gospel.
In America, where we are a melting pot of post-Christian racial and political cultures, to attempt ministry that is focused upon one particular context has the potential to dismantle what we are trying to build. We are not facing the same pre-Christian contextual issues as Hudson Taylor did as a missionary in China, and I don't believe we have to be this narrow in our contextualization.
In an effort to be inclusive we end up being exclusive. Where the gospel seeks to heal the division at Babel, uniting every tribe, tongue and nation, it's easier to keep the separate camps intact. But when we base our ministry context around one particular cultural preference then we promote cultural unity rather than Christian unity. We necessarily end up with a community full of people who look and think the way we do. This is not a peculiar people. This is not triune and transcendent culture. This is secular tribalism.
The world knows us by our love for each other. This love should not occur at a distance, but we are a peculiar people because we are truly united in our diversity. This should be our aim within our own corporate contexts, and through my own experience I believe a transcendent Church culture is possible but extremely difficult, requiring nothing short of the very Spirit and humility of Christ.
Bobby Gilles: I love some of the art (specifically vintage album covers) that you've included on the site. How does that represent or maybe play into what you're trying to do with MusaicWorship?
David LaChance: That's a great question and I'm glad you noticed this because it has everything to do with the broader purpose of Musaic Worship.
While creating the branding for Musaic I stumbled across an old picture of a formal theatre attendant playing music from a trumpet- horn turntable for a Native American chief. I was immediately struck by the image and thought it is illustrative of the struggle worship leaders face. Yet it is a picture of what leaders and congregants alike should simultaneously pursue and avoid in a corporate context. We should pursue unity in our differences within close proximity and we should also be sensitive to differing preferences and avoid a separatist elitism, always looking for the teachable moment that demonstrates how corporate worship should manifest itself. Depending upon our position on this spectrum, this picture is an exhortation or a warning.
At the heart of Musaic is a call to unite cultural preferences that have become "sanctified absolutes" in the polarized traditional, contemporary and racial church contexts. I understand that our preferences are different, and that these preferences will necessarily guide us to a particular ministry context, but the false dichotomy I am reacting to is musical preference that has become dogmatized, functionally anathematizing the church cultures with which we disagree. And so our striving for unity at a distance, with these attitudes present, makes us guilty of double speak.
My question as I push Musaic forward is this: What does true Christian unity look like, specifically in corporate worship? Again, I think diversity within close proximity is key but I also think that musical preference is at the front lines of our battle for Christian unity.
Luther said that when Satan fell from Heaven he fell into the choir loft. This is why we need to be violently intentional to create a corporate culture encouraging different musical preferences within close proximity. In other words, don't have the contemporary worship service apart from the traditional worship service. Again, there is nothing peculiar about this to the world, and where is the opportunity to show true forbearance and love? It's easy to love our own preferences and the people who think and look like us.
In an effort to be contextual, we assume that we should reflect the musical culture of our spiritual music heritage or of our neighborhood. No, we should reflect the diversity of Christian musical culture and within our neighborhood, not assuming that it's the job of some other minister with a particular bent to reach these people. (Again, thinking about our neighborhood as a melting-pot of culture).
If the attendant in my picture were pointing the trumpet horn towards another well dressed attendant there would be nothing interesting or peculiar about the picture. It's the merging of the different cultural contexts and preferences that makes this particular picture interesting. So, seeing albums by The Faith Tones, The Rappin' Preacher, and the Christian punk band The 77's (on my site) presented as complimentary as opposed to being merely different options seems unnatural, peculiar, and this is the point.
I think we need to make more of an effort to hold this tension in the balance at close proximity in our corporate contexts. This is the very tension of Christ's nature. We are His literal Body and He is simultaneously the Lion and the Lamb, and when we try to separate groups based on what seems most natural (separating the lion from the lamb) then we separate Christ; and instead of a peculiar people, we form cliques at best and functional cults at worst.
It's a theological aim but is it a practical aim? How does this tension look corporately? I'm still fleshing this all out but I see it in action every week in my own corporate context. We have Christian contemporary music and traditional organ/hymnal worship within close proximity. The opportunities for forbearance are bountiful and there is occasional tension but you know what, it looks peculiar to the world and is peculiarly powerful.
I will be saying more about these ideas on musaicworship.com as the project unfolds.
Bobby Gilles: How do you balance the needs of your local church with projects like the website and recordings like the TGC project?
David LaChance: I do a lot of my website work and music work in my spare time, but there is overlap as well. I can be writing a song and making a demo and chart that will be used on the site and used to teach my worship team the song for use in services.
My leaders have also been very gracious in allowing me to work on projects like the TGC album. They see the value in these projects that bless the Church. They see these opportunities as God-given and also as an overlap in what I do for my church community as a worship leader and as the music and media coordinator for the NETS Institute for Church Planting.
Bobby Gilles: What are your long-term goals for Musaic Worship?
David LaChance: I want to make my worship music available to the Church and to have the ideas I've gained through my broad experience be presented so that other worship leaders starting out can avoid common mistakes. I want to hone their sights primarily on feeding Christ's sheep and exemplifying the humility of Christ to those they serve through laying down their preferences and heeding Paul's exhortation to "think of others as better than yourselves. … Do nothing from rivalry or conceit, but in humility count others more significant than yourselves." God knows what will come of this effort. If just these two objectives are served it will be fruitful.