Chords-Instructions for You Grew The Tree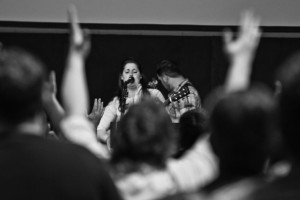 Download You Grew The Tree (CCLI # 4878223) by Kristen Gilles for free as part of The Whole Big Story EP in the column on your right (you can also click the "Play" arrow to hear it before downloading).  "You Grew The Tree" by Bobby and Kristen Gilles can be used in many church settings, seasons and liturgical movements. Appropriate times in the Christian Church calendar for "You Grew The Tree" include Ash Wednesday, Lent, Holy Week, and Good Friday.
During any worship service, it works as a Communion hymn, a song of Praise for His mercy and grace or Assurance in His power over creation, and a Confession of our culpability in Christ's crucifixion.  Doctrines addressed in "You Grew The Tree" include the doctrine of Creation, Atonement and the Sovereignty of God. The song explores Christ's role in Creation and in upholding all things in the world, even while knowing that He would give His life for us on a tree that He created. The story setting is the Creation of the universe and the cross.
Download the "You Grew The Tree" chord sheet here in Bb, and here in G.

In this short instructional video, Kristen Gilles shows you how to play "You Grew The Tree" on acoustic rhythm guitar:

Kristen Gilles recorded the vocal and guitar at Ear Candy Studios with engineer Eddy Morris, where Sojourn Music has recorded albums like Before The Throne, rated 5 stars by Christianity Today. A Sojourn Music band joined Kristen in the studio for You Grew The Tree:
Phillip Miller — Electric guitar
Daniel LaChance — Piano
Luke Barker — Saxophone
Eddy Morris — Bass guitar
Jon Moore — Drums
To hear other Gilles songs, click on the Streampad audio player in the mysonginthenight.com footer. Also visit the Gilles Music page for notes on our Sojourn songs, as well as links to listen to Sojourn songs for free and to buy the albums in CD or digital form.
Post Footer automatically generated by Add Post Footer Plugin for wordpress.