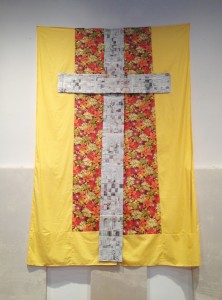 Whenever you tell your story, whether in a conversation, a song, written testimony, a speech or sermon, remember this:
"When we submit our lives to what we read in Scripture, we find that we are not being led to see God in our stories but our stories in God's. God is the larger context and plot in which our stories find themselves." — Eugene Peterson
Do you see your story in the larger context and plot of the whole, big story of God?
How can our songs, church communication and liturgical art communicate that God is the main character in life's grand story?
"Good News Cross" image by Sojourn visual artist Brittany Colyer, woven from newspapers and placed over a colorful floral background.
Thank you for reading our post. You can download our 4-song worship album "The Whole Big Story" for free in the top-right sidebar of this website. We've also heard from many churches who have enjoyed leading these songs in worship services. If you'd like to do so, download free chord sheets from the "Gilles Music" tab at the top of this page. And you can subscribe to this blog for free by clicking the RSS icon or signing up via email in the right-hand sidebar.
– Bobby & Kristen
Post Footer automatically generated by Add Post Footer Plugin for wordpress.